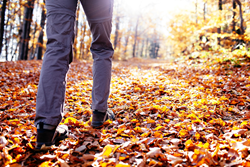 Vermont is known for some of the most breathtaking fall foliage in the country. Guests at New Life Hiking Spa are treated to the beauty of fall foliage close-up by hiking the trails, guided by experts.
Killington/Mendon, VT (PRWEB) August 12, 2015
The award winning New Life Hiking Spa is an all-inclusive vacation package which includes affordable accommodations, guided hiking, holistic massage services, cooking demos, nutrition lectures, a variety of fitness classes and three healthy meals a day in the Green Mountains of Vermont. Eleven-night "Wellness & Weight Loss Retreats" are offered throughout the season, with the final retreat of the season being the "Fall Foliage Wellness Retreat".
Vermont is known for some of the most breathtaking fall foliage in the country. Guests at New Life Hiking Spa are not only treated to the views from the hotel, but experience the beauty of fall foliage close-up by actually hiking the trails and arriving at beautiful vistas that are only available for those on foot. Three levels of hiking are offered each day at New Life Hiking Spa.
THE ADVANCED HIKE
Advanced hikes cover steeper more challenging terrain and longer distances at a more vigorous pace. The rewards are wonderful views from the top of Vermont. Some elevations over 4000 feet will be reached where you experience a different climate and Vermont's unique high elevation alpine tundra environment.
THE CLASSIC HIKE
The classic (or intermediate) hikes provide a scenic workout for the advanced beginner, intermediate or experienced hiker, covering anywhere from 4-6 miles on wooded trails and ancient ways. Visit beautiful lookouts, ancient rocks and serene waterfalls. A ratio of no more than 6:1 hikers to hike leaders insures that guests feel comfortable at their own pace while being appropriately challenged.
NATURE WALK
The nature walk will be flat or rolling hills 2-4 miles in length. This will provide a good workout for the beginner hiker while enjoying the beautiful Vermont scenery at a more relaxing pace. This hike will be perfect for fall foliage photography. New Life's expert guides can accommodate most ability levels comfortably so that guests will be challenged at the just the right level while enjoying the great outdoors.
All of New Life Hiking Spa's guides live and breathe the outdoors. They are highly trained to provide guests with an individual adventure that will not be forgotten. New Life Hiking Spa has won Top Ten in the World for "Best Hiking Spa" and "Best Outdoor Adventure Spa" many consecutive years in a row by SpaFinder Wellness Reader's Choice Awards.
The complete 11-night package includes: 11 nights' accommodations with a private room, 33 healthy, freshly prepared meals, 11 guided hikes, three massages, all cooking demos, lectures and fitness classes. The package total for double occupancy is $2,475.00 per person and the package total for single occupancy is $2,695.00. Tax and service charge is additional.
New Life Hiking Spa has been operating in the Green Mountains of Vermont since 1978. New Life is an award-winning vacation retreat and has been selected by Rand McNally as one of the three best summer road trips for 2015. In addition, New Life was selected as one of the "Top Ten Wellness Retreats in the World" by The Active Times and was listed #1 on the 2014 Spas of America listing.
New Life Hiking Spa is open each year in Vermont from mid-May through the end of September. More information can be found online at http://www.newlifehikingspa.com or by calling 802-353-2954.