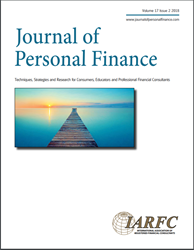 Our members value the research presented by industry academia. Along with the Register, it gives a balanced approach to educating our professionals."...Chairman and CEO H. Stephen Bailey, MRFC
MIDDLETOWN, Ohio (PRWEB) September 25, 2018
This is the first Journal from new editor Dr. Benjamin F. Cummings, CFP®, RFC® who is an Associate Professor of Behavioral Finance at the American College of Financial Services. He has completed award-winning research on the use and value of financial advice and has been quoted in the media, including in MarketWatch and USA Today. His primary responsibilities include teaching behavioral finance in the Financial and Retirement Planning Ph.D. program and advising doctoral candidates on dissertation research. His research focuses on making retirement, charitable, tax and investment decision.
"As the new editor of the Journal of Personal Finance, I am pleased to introduce the Fall 2018 issue which is full of the latest research and current thinking in the field of personal finance," relates Dr. Cummings. "I am honored to follow in the footsteps of the previous editors of this key journal serving the academic and practitioner communities in the financial planning profession."
The following six articles are included the 2018 edition, Volume 17, Issue 2:

Creating Understanding and Interest in Charitable Financial and Estate Planning: An Experimental Test of Introductory Phrases
The Consistency Smile: How Consistency of Investment Decisions Relates to Risk Appetite?
Identifying Overvalued and Undervalued Stock Market and Market Timing in Retirement Funds
Defined Benefit Plans Versus Defined Contribution Plans: An Evaluation Framework Using Random Returns
Post-Retirement Spending Discomfort and the Role of Preparedness, Preferences, and Expectations
2018 IARFC National Financial Plan Competition: Case Solution by Bryant College
"Dr. Cummings has performed remarkably in continuing the vision and production of the Fall JPF," commented IARFC Chairman and CEO H. Stephen Bailey, MRFC. "Our members value the research presented by industry academia. Along with the Register, it gives a balanced approach to educating our professionals."
Initiated in 2002, the Journal of Personal Finance has grown in scope, acceptance and recognition among practitioners and academicians. The JPF welcomes articles from practicing financial professionals and consultants about financial products and services, client relationships, retirement planning, long-term care, practice management, and firm operational efficiencies.
For members of the IARFC, the JPF is a benefit and a source of continuing education credits. Members can take the IARFC Journal of Personal Finance Online CE quizzes. Two hours of IARFC CE will be awarded to members who achieves a score of 70% or higher per quiz.
To order a hard copy or electronic version of the Journal, to find out more information or to review article submission guidelines, go to http://www.journalofpersonalfinance.com or contact the editor. Register to take the CE quiz at the IARFC Store.