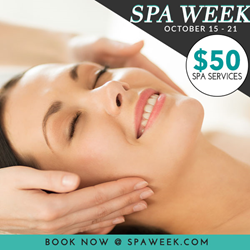 NEW YORK (PRWEB) September 20, 2018
The Wellness Industry is transforming, and people are taking notice! With a new appreciation for the importance of self-care and relaxation, people throughout the country are taking more time for themselves. Not sure how exactly you treat yourself? Industry leader, Spa Week Media, is here to help with the biannual Spa Week Event. Spa Week founder, Cheryl Reid, has made bringing wellness to the masses her mission, beginning in 2004. Her dedication to increasing knowledge of and accessibility to the wellness lifestyle culminates every Spring and Fall with the Spa Week Event that lauds luxurious, rejuvenating treatments for only $50 each.
During the renowned Spa Week Event, the Nation's top spas vie for consumer's attention by offering their most popular and high-end services for only $50--some normally costing upwards of $500! Now, after revolutionizing the industry for 15 years, the Spa Week Event has grown into a national phenomenon in cities all across the country. With hundreds of spas participating nationwide, spa-goers can experience a variety of unique deals right in their own neighborhood. Looking for a Sudatonic Slimming Body Wrap? Done! Want a Couture Champagne Facial? We've got that, too! Whether you need a rejuvenating peel, a full-body scrub, or a Swedish massage, Spa Week is your one-stop shop for all things spa and wellness.
We've tried and tested some of the top treatments available this Spa Week, such as a 4D Facial, Cryo Fat Freezing and an all-natural Lash Lift. Visit @spaweek to see these experiences live on Instagram.
Spa Week is October 15th-21st but bookings begin September 17th, so start thinking about what treatments you'd like to try and experiment with now. Interested in trying a spiritual treatment? Visit Beyond Beautiful Aesthetics in New York City for a Reiki healing treatment. This treatment uses the "laying on hands" to draw out negative energy and restore balance to the body. Hoping to reduce wrinkles with innovative technology? Visit Hand & Stone Massage and Facial Spa in cities across the country for a Facial and NuFace Sculpting Treatment. This treatment uses microcurrent technology to improve the facial contour and reduce wrinkles while increasing radiance. In need of some stress-relief? If you're in Boston, visit Bliss Spa & Salon for a Stress Relieving Back Treatment with CBD Oil Back Massage to ease anxiety, soothe sore muscles, and hydrate the body.
To reserve your spot or to view the full list of participants and services visit http://www.spaweek.com. At just $50 a pop, harnessing the power of self-care has never been easier!
Spa Week Fall 2018 is sponsored by PMD Beauty, Ahava, Anse Chastanet Resort, My Hygge Joy, and Red Carpet Manicure.
Spa Week is the leading health, beauty, spa/wellness marketing company across North America. Since its inception in 2004, through its online presence at spaweek.com, the Spa Week Brand has opened up the wellness industry to the masses through the success of its (a) bi-annual Spa Week Event offering signature spa services for $50; and (b) creation of a National Gift Card--the Spa & Wellness Gift Card. Offering every type of wellness experience including massages, facials, acupuncture, chiropractic sessions, yoga, Pilates, fitness classes and more, the Spa & Wellness Gift Card has the most comprehensive selection of health and wellness options through its network of over 9,000 of the finest spa and wellness facilities nationwide. Well-being is becoming nothing short of a global movement as consumers seek to ensure a healthy lifestyle for as long as possible.
For more information contact:
Laura Gittoes
laurag(at)spaweekmedia.com