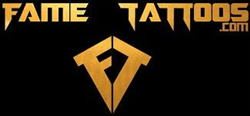 HIALEAH, Fla. (PRWEB) November 13, 2019
Representatives with Miami-based Fame Tattoos announced today that it is now offering free Polynesian and tribal tattoo designs at its studio in Miami.
"When it comes to Polynesian and tribal tattoos, no one does it better than us," said Omar Gonzalez, spokesperson for Fame Tattoos before adding, "no matter how simple or intricate tattoo you have in mind, you can rest assured we will make it a reality."
Fame Tattoos general services include tattoos, tattoo removal, piercings, permanent makeup and micro blading, hair micropigmentation, aftercare, and more.
Omar suggested to check out some of the Polynesian and tribal tattoos Fame Tattoos artists have done in the past to see for yourself why we are the best in the business. "Schedule your appointment with us online today.
The term Polynesian refers to several tribes including MarquesansTongans, Cook Islanders, Hawaiians, Samoans, Niueans, Tahitians, and Maori and these tribes are genetically linked to the indigenous peoples from parts of Southeast Asia comprising of a large group of over 1000 islands scattered over the central and southern Pacific Ocean, within a triangle that encompasses New Zealand, Hawaii and Easter Island.
Fame Tattoos, according to Omar, are Polynesian and tribal tattoo experts, with hundreds of hours of experience among our artists. Omar encouraged anyone interested in Polynesian and tribal tattoo designs to browse its gallery to see the incredibly intricate designs it has completed for their customers.
For more information, please visit https://www.fametattoos.com/blog and https://www.fametattoos.com/tattoo-awards
About Fame Tattoos
We are the top tattoo artist in Miami with over 50 years of combining Tattoo experience; this has been a passion of ours since we could remember. During our years of experience, we have been to many tattoo conventions throughout the world where we have gained knowledge and experience from different artists. We're the top award-winning tattoo shop in Miami that has won over 100 awards throughout conventions. Our shop is very relaxed and peaceful, giving you the best tattoo experience ever. We also provide all-natural, non-laser tattoo removal. Tattoo Vanish Method is far less painful, more cost-effective as it requires up to 50% Fewer Treatments. We started to provide tattoo removal because there has been a large amount of poor-quality tattoos that are so far from Help, that we will help make a change!
Contact Details:
Omar Gonzalez
1409 West 49th Street Suite 1
Hialeah, FL 33012
Phone: 305-303-2025
Source: Fame Tattoos