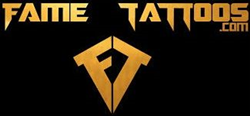 HIALEAH, Fla. (PRWEB) February 21, 2020
Representatives with Miami-based Fame Tattoos announced today that it is now offering free Script Lettering tattoo designs at its studio in Miami.
"We are very excited to design script lettering tattoos," said Omar Gonzalez, spokesperson for Fame Tattoos and added, "These tattoos are a collection of words or even single word with some fancy calligraphies and fonts."
Omar explained that script lettering tattoos generally have words that inspire or encourage. These tattoos remind many people of someone or something special who they may not want to forget and want to see them every day or have them with you everywhere you go.
"Whether the words are from the bible or other religious text, or a quote, script tattoos offer the best way of ensuring that you will always remember them," highlighted Omar.
"No matter what yours means to you, you need the best script lettering tattoos in Miami," Omar said. "Fame Tattoos artists are passionate about script lettering tattoos who have created many script lettering tattoos over the years."
Fame Tattoos services include tattoos, tattoo removal, piercings, permanent makeup and microblading, hair micropigmentation, aftercare, and more.
Omar mentioned that Fame Tattoos recently launched a tattoo and piercing gift card.
"Buy the gift card for your friends, family or loved ones and give the gift that lasts forever," said Omar and went on to add, "You have two options to buy, an Electronic Gift Card, or you can come in in-person to purchase a Physical Gift Card."
Gift cards are available in the denomination of $50, $100, $200, $300 up to $2000, and can be purchased online where you can send the gift card to the recipient instantly or on a future date.
"You can even add a personal message to the card," revealed Omar.
For more information, please visit https://fametattoos.com/tattoo-shop and http://www.fametattoos.com/blog
About Fame Tattoos
We are the top tattoo artist in Miami with over 50 years of combining Tattoo experience; this has been a passion of ours since we could remember. During our years of experience, we have been to many tattoo conventions throughout the world, where we have gained knowledge and experience from different artists. We're the top award-winning tattoo shop in Miami that has won over 100 awards throughout conventions. Our shop is very relaxed and peaceful, giving you the best tattoo experience ever!
Contact Details:
Omar Gonzalez
1409 West 49th Street Suite 1
Hialeah, FL 33012
Phone: 305-303-2025
Source: Fame Tattoos