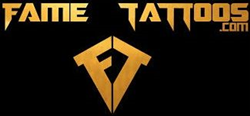 HIALEAH, Fla. (PRWEB) January 07, 2020
Representatives with Miami-based Fame Tattoos announced today that they have launched a gift card that lasts forever.
"We are very excited to launch our tattoo and piercing gift card," said Omar Gonzalez, spokesperson for Fame Tattoos and went on to add, "buy the gift card for your friends, family or loved ones and give the gift that lasts forever.
"You have two options to buy, an Electronic Gift Card, or you can come in in-person to purchase a Physical Gift Card," highlighted Omar.
Gift cards are available in the denomination of $50, $100, $200, $300 up to $2000, and can be purchased online where you can send the gift card to the recipient instantly or on a future date.
"You can even add a personal message to the card," revealed Omar.
Fame Tattoos services include tattoos, tattoo removal, piercings, permanent makeup and microblading, hair micropigmentation, aftercare, and more.
"We take tattoo art to a different level spiritually and mentally," Omar said, before adding, "We have a high level of continuous local clientele, athletes and celebrities. We don't consider ourselves average tattoo artist. Our work is based on passion and vision, where we like to picture ourselves as if we're writing or drawing a story of our client's life, past, future, and artistic Passion. We will help guide you with the best option and best look for your new work of art."
As to why anyone should visit Fame Tattoos, one customer identified as Dianna Anak said the award-winning tattoo shop provided her with the best experience possible and went on to recommend Fame Tattoos to others.
"Let me start off by saying this place is phenomenal," she said in her Google review. "I went in today to get two tattoos. The atmosphere when I first walked in was super clean, definitely a more modern vibe, and awesome customer service. Every single person I encountered was very nice. Once I got there, I felt like I was in great hands. My artist was hector, and the owner Omar was very helpful and he did advise me on what I should do. Everyone was super professional, they took their time with what I wanted and I'm so happy with the result. Definitely will be back."
However, she isn't the only one raving about Fame Tattoos. Customer Damaris Gonzalez, in his Google review, described Fame Tattoos as amazing.
"Aside from having a gorgeous location, their tattoo artists are spectacular," he stressed. "I traveled all the way from North Carolina to see Mr. Fame himself. Super impressive place."
For more information, please visit https://www.fametattoos.com/blog and https://www.fametattoos.com/tattoo-awards
About Fame Tattoos
We are the top tattoo artist in Miami with over 50 years of combining Tattoo experience; this has been a passion of ours since we could remember. During our years of experience, we have been to many tattoo conventions throughout the world where we have gained knowledge and experience from different artists. We're the top award-winning tattoo shop in Miami that has won over 100 awards throughout conventions. Our shop is very relaxed and peaceful, giving you the best tattoo experience ever. We also provide all-natural, non-laser tattoo removal. Tattoo Vanish Method is far less painful, more cost-effective as it requires up to 50% Fewer Treatments. We started to provide tattoo removal because there has been a large amount of poor-quality tattoos that are so far from Help, that we will help make a change!
Contact Details:
Omar Gonzalez
1409 West 49th Street Suite 1
Hialeah, FL 33012
Phone: 305-303-2025
Source: Fame Tattoos