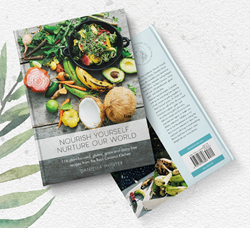 LOS ANGELES (PRWEB) December 16, 2020
Holistic food innovator, hotelier, and entrepreneur, Daniella Hunter has officially launched her long-awaited debut cookbook, Nourish Yourself, Nurture Our World. Featuring personal transformative stories and more than 100 plant-focused, gluten-, grain-, and dairy-free, Mexican-inspired recipes, the cookbook brings Hunter's mouthwatering flavors from her renowned Real Coconut Kitchen straight into your own home.
"I have been working on ways to heal and care for my body and the planet through food for decades, and I'm incredibly grateful to culminate the wisdom I have learned during a moment in our lifetime when we need it most," said Daniella Hunter, author and owner of the Real Coconut Kitchen. "This cookbook was carefully curated with delicious, digestible recipes - just in time for the holidays - that have truly allowed me to transform my own health while doing my part to nurture an interconnected world. I can't wait for wellness-seekers at home to start their own journey."
Nourish Yourself, Nurture Our World comes on the heels of the launch of The Real Coconut Market - where you can purchase many of the book's ingredients - and shares a wide variety of tasty dishes that patrons flock to the Real Coconut Kitchen for, including:

Macho Pancakes - Fluffy pancakes made with fresh plantains and organic eggs form for the base topped with berry coulis, maple syrup, berries, and bananas
Real Coconut Quesadillas - One of Daniella's first recipes, the Real Coconut Quesadillas are made with coconut flour tortillas, filled with melted coconut cheese and served with guacamole and pico de gallo
Nacho Bowl - A twist on classic nachos with base of spinach and local greens, topped with coconut flour chips, drizzled with melted chipotle coconut cheese, guacamole, pico de gallo salsa, coconut sour cream and jalapeños
Vanilla Almond Bliss 'Ice Cream' Smoothie - A dairy free smoothie made with homemade coconut milk, dates, almond butter, and vanilla pod
In addition to recipes, the book is filled with tips for everything from how to cut a fresh coconut to how to set up a clean, conscious pantry that may support healing the body from everyday ailments. Crafted with a healthy food philosophy in mind and going far beyond 'clean eating,' the book offers guidance for anyone looking to cultivate a successful, healthy food philosophy by addressing emotional, mental and physical balance.
Like all Daniella Hunter Co. brands, Nourish Yourself, Nurture Our World came to life organically by simply starting where you are and perfecting that over time. The cookbook is available for $29.95 at the Real Coconut Market and at bydaniellahunter.com.
About Daniella Hunter Co.:
Daniella Hunter Co. is the umbrella connecting a collection of conscious brands founded and curated by Daniella Hunter. Across hospitality, food & beverage, CPG, fashion and skincare, Daniella Hunter brands are built on the understanding that everything is connected and every decision makes an impact. Brands include the Sanará Hotel Tulum healing luxury resort, Real Coconut Kitchen restaurants in Tulum and Malibu, Real Coconut Kitchen Market for innovative artisanal foods, Real Coconut chips and tortillas in grocery stores nationwide, and By Daniella Hunter lifestyle and organic goods. All Daniella Hunter Co. brands use native, regenerative, underutilized and low impact resources and processes to heal every body and community, simply. Daniella Hunter Co. is a Global Influence Brand. Learn more at DaniellaHunter.com.
Media Contact:
Sophia Morton
smorton@harmonica.co