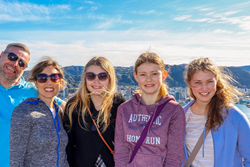 It's a scary statistic that less than half of parents are going to follow through with vaccinations. We really have to work with parents to understand the importance of the vaccines, review and reassure them how safe these drugs are -- Dr. Cornelius Ferreira, Nuvance Health
NEW YORK (PRWEB) November 12, 2021
As the holidays quickly approach, consumers continue to anguish over their decision to travel this holiday season or spend yet another year grounded in place. As kid-sized vaccine doses become readily available for children ages 5-12 and the U.S. has re-opened its borders to millions of vaccinated international travelers, questions still weigh on the minds of families across the country. Will parents actually vaccinate their kids? How likely are unvaccinated kids to potentially infect others, especially in close quarters such as airplanes? And, in light of recent events involving Southwest and American Airlines, how prepared is the airline industry to handle the anticipated increase in passenger traffic this holiday season?
ExpertFlyer recently went One-on-One with Dr. Cornelius Ferreira, Senior Vice President and System Chair for Primary Care at Nuvance Health, and Chantal Patton, host of the Growing Up Without Borders travel vlog, to get some medical insight and consumer perspectives on the general safety (and potential dangers) of traveling with family, including young children, this holiday season.
On November 2nd, the CDC gave the final sign-off to Pfizer's kid-size COVID-19 shot. A milestone that the travel industry no doubt hopes will encourage more parents to travel with their young children this holiday season. While optimism is justified, it's not necessarily assured -- at least according to a study from the American Academy of Pediatrics (AAP). Released in October, the study found that less than half of the 1,700 participating parents would actually vaccinate their kids.
"It's a somewhat scary statistic that less than half of parents are going to follow through with vaccinations," said Dr. Ferreira who, in addition to his position as SVP and System Chair for Primary Care, is also in charge of Nuvance Health's Covid-19 Vaccine Taskforce. "We know today that vaccines, whether it's COVID-19, polio, or influenza, save lives. When we look at the millions of doses administered across the United States and over seven billion doses given worldwide, we know that these vaccines are safe and highly effective. So, we really have to work with parents to understand the importance of the vaccines, review and reassure them how safe these drugs are," Dr. Ferreira added during his video podcast with ExpertFlyer.
Chantal Patton certainly understands the reservations many families are having about getting their children vaccinated with the Covid vaccine, but she and her family really wanted to begin traveling again and the only safe and relatively convenient way to do it was to get everyone vaccinated. "We had reservations at first, but since we are eager to start traveling again, we wanted to give ourselves the best protection against Covid," said Patton who believes she and her family contracted Covid during a cruise in Dubai in December 2019. "Covid Toes" and daily headaches were some of the extended effects of having Covid but they seemed to dissipate following vaccination. "What is crazy is that after my first vaccine, my headaches disappeared, and I haven't had COVID toes since, nor have the girls."
According to Dr. Ferreira, debunking some of the myths that have flourished on the internet and social media over the last several months is crucial. "We really have to look at the science to understand that these vaccines are safe. And the reason we've made so much headway against the COVID-19 pandemic is because we were able to administer vaccinations so quickly and effectively over the last 12 months."
As a family living a global nomadic lifestyle, Patton recommends checking travel and local rules and regulations for every country you plan on visiting individually. "Many countries grant entrance to fully vaccinated passengers regardless of their age. Also, keep in mind that children rarely show any Covid symptoms, so to keep everyone safe, especially elderly and immunocompromised individuals, it's best to have children take a PCR test."
"What we have learned through the pandemic is the importance of the things that we've known in healthcare for many decades," says Dr. Ferreira. "We know that masks are extremely beneficial to help with droplet spread prevention and I tell parents to make sure their kids are masked when they go out. The second piece is we have to make sure we follow hand hygiene. And finally, keeping a safe distance still remains one of the most crucial factors as we try to avoid coming into contact with ill people." But how does that work on a plane when you're separated by inches, not feet?
"Most viruses or germs don't spread easily on airplanes because of the way that air is circulated and the way that air is filtered on airplanes," Dr. Ferreira explained. "On a recent trip I was so happy to see there were actually big signs on the plane that said, 'HEPA filtration in place, air being circulated every two minutes.' So I think the airline industry has done a really good job of trying to secure and keep us as safe as possible on those flights. In addition, the air volume in the airline cabins are refreshed every two to four minutes because of the HEPA filtration system that they have in place."
To read the full story and listen to the entire One-on-One interview with Dr. Cornelius Ferreira, visit ExpertFlyer's blog.
About Nuvance Health
Nuvance Health is a family of award-winning nonprofit hospitals and healthcare professionals in the Hudson Valley and western Connecticut. Nuvance Health combines highly skilled physicians, advanced facilities and technology and compassionate caregivers dedicated to providing quality care across a variety of services including the Cancer Institute, Heart and Vascular Institute, Neuroscience Institute and orthopedics, primary care and surgery.
Nuvance Health has convenient hospitals and outpatient locations including Danbury Hospital and its New Milford campus, Norwalk Hospital and Sharon Hospital in Connecticut; Northern Dutchess Hospital, Putnam Hospital and Vassar Brothers Medical Center in New York; and many primary and specialty care practices including The Heart Center — a leading provider of cardiology care — and three urgent care offices. Nuvance Health affiliates offer non-acute care including Home Care and the Thompson House for rehabilitation and skilled nursing services. Visit nuvancehealth.org for more information. TTY: 1-800-421-1220.
About Growing Up Without Borders
To watch the adventures of the Patton family, visit Growing Up Without Borders.
About ExpertFlyer.com
Each month, ExpertFlyer's One-on-One blog goes face-to-face with the travel industry's leading decision makers to discuss and address topics relevant to many of today's business and frequent travelers.
ExpertFlyer.com was conceived and created by an eclectic team consisting of a veteran elite tier frequent flyer, an airline captain and corporate travel manager, and information technology professionals to deliver a 24/7 real time powerful air travel information service. The company provides its subscribers and corporate travel managers alike with a complete, concise, and efficient way to access the ever-changing details of worldwide air travel information. For more information, please visit expertflyer.com.
Stuck in the middle seat again? Download the free Seat Alerts app from ExpertFlyer and get the window or aisle seat without hassle or frustration.