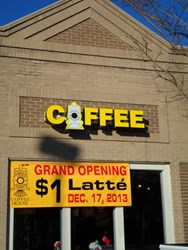 Coffee shops are ideal family-owned businesses, and we're excited to welcome three more families to our community - Greg Ubert
Columbus, Ohio (PRWEB) December 31, 2013
Crimson Cup Coffee & Tea, an Ohio Coffee Roaster and coffee shop franchise alternative, has added three family-owned businesses to the growing community of independent coffee shops, bakeries and restaurants across 28 states that serve Crimson Cup beverages. The new enterprises include French Express in Kannapolis, N.C., Gimme Java in Shaker Heights, Ohio and Scarlet Cup in Meridian, Miss.
"Coffee shops are ideal family-owned businesses, and we're excited to welcome three more families to our community," said Founder and President Greg Ubert. "Our passion for handcrafted coffee and small business has helped open hundreds of independent and family-owned coffee shops over the past 22 years."
All of the business owners completed Crimson Cup's 7 Steps to Success program. "This program teaches everything a new owner needs to run a profitable coffee shop," Ubert said. "We offer everything a coffee shop franchise does – and more – but without franchise fees and royalties."
Unlike coffee franchises, Crimson Cup allows entrepreneurs to create a unique specialty coffee business. From the name on the door to the location, menu, interior decor and other features, the owners put their stamp on a business that reflects their individual tastes and the needs of their local community.
On Dec. 17, family-owned business French Express Coffee House held the grand opening of its shop at 2087 Dale Earnhardt Blvd. in Kannapolis, just 30 minutes from downtown Charlotte, N.C. Operated by mother-and-son team Regina and Ryan French, this "groovy coffee house offering amazing hot and cold coffee dreams" features a drive thru as well as a roomy interior with a stage for open mic nights. The store was designed by the owners' cousin Randolph James of Magnolia Emporium.
After serving as a North Carolina State Trooper, Ryan French decided it was time for a change of pace. When he spoke to his mother about opening a coffee shop, she lived just blocks away from the Crimson Cup Coffee House in Clintonville, Ohio. Having experienced the quality of the coffee and service, she recommended Crimson Cup as the perfect fit for the new venture.
Another family affair, Gimme Java Coffee recently opened at 3427 Lee Road in Shaker Heights, Ohio. After running a bakery in New Jersey for 10 years, owner Albert Plummer decided it was time to return to Ohio. He joined with sister Vicki White and fiancée Joann Dipasquale to create a neighborhood coffee house for Shaker Heights. Gimme Java opened after extensive renovations to a space on the corner of Lee Rd and Van Aken Blvd, just steps from the Shaker Heights library, community center, police station, metro line and city offices. The shop serves breakfast and lunch in addition to an extensive menu of pastries, coffee, espresso-based drinks, tea and smoothies.
"Gimme Java's mission is to provide an upscale coffee shop experience to patrons who are looking for something a bit more comfortable and 'homey,' as opposed to the corporate atmosphere of other coffee houses," Plummer said.
Created by husband-and-wife team Bill and Judy Lawn, Scarlet Cup Coffee House held its soft opening Dec. 2 at 2300 North Hills Street, Suite B, Meridian, Miss. Located in the center of the North Meridian business sector, the shop offers comfortable seating areas where patrons enjoy hot and cold espresso-based lattes, mochas, cappuccinos, drip coffee, smoothies and hot and ice tea, plus muffins baked fresh daily. Baristas prepare hand-pour coffees to order at the brew bar.
About Crimson Cup Coffee & Tea
Since 1991, Crimson Cup Coffee & Tea has hand-roasted specialty coffee in Columbus, Ohio and taught independent business owners how to be successful through its coffee shop franchise alternative program. Sustainably sourced Crimson Cup coffee is available through a network of more than 350 independent coffee houses, grocers, college and universities, restaurants and food service operations across 28 states, as well as the company's own Crimson Cup Coffee House in the Columbus suburb of Clintonville. For more information, visit crimsoncup.com.