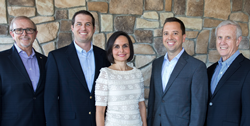 CLEARWATER, Fla. (PRWEB) March 01, 2019
Drs. Matthew Burton, Keith Kiskaddon, Nolan Allen, Maria Hernandez and James Hayslett, dentists in Clearwater, FL, welcome patients of all ages interested in the advantages of family dentistry. As a practical matter, family dentistry helps families obtain the oral healthcare they deserve from the convenience of one practice, Clearwater Dental Associates.
At Clearwater Dental Associates, appointments for every member of the family can be made in a back-to-back structure. Doing so reduces the number of visits families need to make for general dentistry, cosmetic dentistry and restorative dentistry check-ups, examinations, cleanings and treatments. Not only does this save time, but it can save resources. Because numerous dentists are available at Clearwater Dental Associates, family member appointments may align concurrently, rather than being back-to-back.
The next advantage to visiting a family dentist in Clearwater, FL is the availability of leading techniques and options made available by modern technology. At Clearwater Dental Associates, each dentist uses a wide variety of advanced tools and applies leading-edge procedures. In most cases, this can greatly improve patient experiences and outcomes. The most modern protocols can also shorten dental visit timeframes.
Receiving care from a family dentistry practice also means having a one-stop location to get answers on confusing healthcare and dental insurance questions. The Clearwater Dental Associates team strives to help patients understand their financial obligations, such as co-pays and treatments that are not covered by insurance.
Those seeking a family dentistry practice are encouraged to call 727-797-8800 to arrange for an initial consultation. The office accepts patients of all ages, including children.
About the Practice
Clearwater Dental Associates is a team of leading dentists serving patients in the Clearwater area for over 30 years. Drs. Matthew Burton, Keith Kiskaddon, Nolan Allen, Maria Hernandez and James Hayslett offer comprehensive services, allowing patients to receive all of their dental care at one, state-of-the-art facility. A 17-seat practice with over 20 team members, Clearwater Dental Associates provides leading care including dental implants, Invisalign®, sedation and general dental care. A patient-centered practice, each doctor and team member is dedicated to patient comfort and education. To learn more about Clearwater Dental Associates or to schedule a personalized appointment, call 727-797-8800 or visit http://www.cdadental.com.