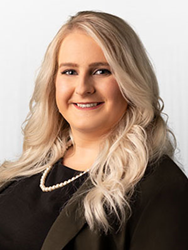 ST. CHARLES, Ill. (PRWEB) May 26, 2021
Attorney Tricia Goostree is pleased to announce that Attorney Alyssa D. Smith has joined Goostree Law Group, P.C. as an associate attorney. With Alyssa's dedication to helping families during some of the most difficult times of their lives, she will provide valuable help for the firm's clients as they address concerns related to family law.
Alyssa Smith graduated from the University of Missouri School of Law in 2018. While studying for her law degree, she focused on taking courses to prepare her for a career as a family law attorney, studying topics such as children and the law, mediation, client counseling, and conflict resolution. She worked as an intern at Prairie State Legal Services in McHenry, Illinois, focusing on assisting low-income members of the community with divorce cases and helping them apply for Orders of Protection in cases involving domestic violence. She participated in the University of Missouri Family Violence Clinic, where she worked with clients in cases involving domestic violence and family law. With four years of family law practice at the time she was admitted to the bar, she has been able to provide dedicated representation for clients, helping them navigate the emotional process of addressing divorce and child-related issues.
"We are glad Alyssa has joined our firm," said Attorney Tricia Goostree. "She has an unwavering dedication to helping people get through some of the most difficult times in their lives. With her understanding of the law and her experience addressing complex issues related to domestic violence, orders of protection, and other types of divorce and child custody cases, she is equipped to provide the legal help our clients need."
The attorneys of Goostree Law Group bring multiple decades of legal experience to family law matters. The firm's lawyers assist divorcing spouses through the process of legally dissolving their marriage. They work with divorcing or unmarried parents to address child custody issues, with a focus on protecting children's best interests. The firm also provides legal help with adoption, paternity, legal separation, prenuptial and postnuptial agreements, and orders of protection in domestic violence cases.
About Goostree Law Group
Goostree Law Group, P.C. has offices in Naperville, St. Charles, and Wheaton, and the firm's attorneys assist with family law matters in Kane County, DuPage County, and the surrounding counties in the Chicago suburbs. Along with legal representation, Goostree Law Group provides divorce coaching, helping clients understand how they can resolve disputes successfully and achieve their goals. The firm works to help spouses, parents, and other family members resolve their legal issues efficiently and effectively while ensuring that they will be able to move forward successfully once their case is complete. Contact Goostree Law Group at 630-584-4800 or visit familydivorcelaw.com to arrange a free consultation with the firm's attorneys.