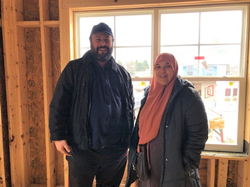 FREDERICK, Md. (PRWEB) February 13, 2020
Habitat for Humanity of Frederick County is pleased to announce Wiesam Shiekhi and Hanan Agha, parents to five children ranging from 1 to 19 years old, as the future homeowners of the organization's newest build at 211 S. Jefferson Street in Middletown, MD.
Wiesam is an accountant for a small local CPA firm and has worked hard to provide for his family. Hanan also has a BS in accounting, but currently stays at home to take care of the children, and as Wiesam told us, "is an awesome wife and awesome mother." Their oldest child is a college student and recently received his EMT certification, volunteering with local emergency centers as part of his plans to become a doctor. Their daughter is a sophomore at Middletown HS while taking courses at the FCC Tech Center to become a certified nurse. Their sixth grader is a talented artist with dreams of becoming an engineer. They are also raising a bright, curious 4 year old and 1 year old, who stay home with their mother and "learn something new every day." Wiesam and Hanan have long searched for an affordable way to become homeowners to provide a stable environment for their children. Wiesam first applied for a Habitat home in another county, but was in a large pool of applicants and was not selected. After relocating to Frederick, he sought out the local Habitat affiliate in August of 2018 to try again, and thus began the process that led to today's announcement.
Habitat for Humanity of Frederick County began the build at 211 S. Jefferson Street in 2019 with the backing of Build Sponsors and several local churches in and surrounding Middletown. RPM Construction donated the labor and material to frame the house in the fall and licensed contractors finished electrical, plumbing, and other certified work throughout the holidays. Meanwhile, Wiesam and Hanan were completing a lengthy USDA loan application process with support from Habitat to ensure a low-interest loan that will enable them to purchase the home at a subsidized price in order to achieve their dream of homeownership in an affordable manner.
Now that Wiesam and Hanan have been approved for the project, they will join volunteers from the local churches and sponsors on the build site and together finish building their future home. Habitat expects to complete the home, which is two stories plus a finished basement, in April.
About Habitat for Humanity of Frederick County:
No matter who we are or where we come from, we all deserve a decent life. We deserve to feel strength and stability day after day. We deserve to know we have power to take care of ourselves and build our own futures. At Habitat for Humanity of Frederick County, this is what unites us. Through shelter, we empower. Our vision is a world where everyone has a decent place to live. For more than 25 years, Habitat for Humanity of Frederick County has worked toward that by providing affordable home ownership solutions to hardworking people in Frederick County. Because every one of us deserves the opportunity for a better future. Mission: Seeking to put God's love into action, Habitat for Humanity brings people together to build homes, communities and hope.