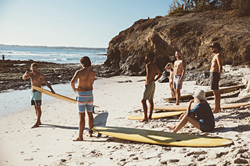 We need to be as agile as possible across both our in-house and supply chain processes, and where traditional PLM systems were complex and inefficient, BeProduct has allowed us to simplify, streamline, and connect all those activities with a single cloud-based solution. -- Patgun Chen
NEW YORK (PRWEB) March 30, 2021
BeProduct is proud to announce that Faherty Brand ("Faherty"), the rapidly-growing sustainably-minded clothing and lifestyle brand, has chosen the BeProduct Digital Product Platform to support its ambitious design, development, and multi-channel digital transformation strategies.
Already in use across Faherty's apparel business since summer 2020, BeProduct was selected to replace Faherty's legacy PLM solution on the strength of its extended PLM functionality, its future-facing roadmap, and its affordability and accessibility.
Owned and operated by Mike and Alex Faherty (identical twins) and Kerry Docherty (Alex's wife), Faherty creates menswear, womenswear, and multi-category accessories that blend uncompromising material choices, conscious design, a diverse sourcing strategy, and a sustainable spirit. Its stores serve as both retail outlets and community hubs, and the Faherty family and their close-knit teams run numerous outreach, social, entertainment and educational programs across the United States.
Prior to the COVID pandemic, Faherty's business was balanced equally across three pillars: eCommerce, brick-and-mortar retail, and wholesale. In 2020 that balance shifted towards eCommerce and Faherty's sales increased by 40%, with shoppers being drawn in by the brand's comfortable clothing. But unlike other brands, Faherty intends to restore its channel balance post-pandemic, opening up to 10 new stores in community destinations.
This multi-channel strategy, coupled with Faherty's unique approach to material sourcing, and its collaboration with overseas factories, led to the realization that the company had outgrown its legacy systems, as Patgun Chen, Faherty's VP of Production explains:
"We believe strongly in finding the best possible material for every style we produce, and our latest goal is to use 85% sustainable materials. Within a given collection, we could be sourcing from Italy, Portugal, England, Turkey or anywhere else we find the right fabric, with the right quality standard, and the right environmental credentials. This means we need to be as agile as possible across both our in-house and supply chain processes, and where traditional PLM systems were complex and inefficient, BeProduct has allowed us to simplify, streamline, and connect all those activities with a single cloud-based solution."
The scope of Faherty's selection criteria also extended far beyond traditional PLM functionality, with the Faherty team identifying BeProduct as both an affordable platform for process consolidation and centralization, and as an opportunity to empower its creative and technical teams, who had been limited by their tools in the past.
"BeProduct's simple, subscription pricing was really important, because it allowed us to open up access to digital tools to more users than we had ever been able to before," adds Chen. "From enabling our teams to import inspiration photos taken on the street seamlessly, to allowing many more users to conduct core design and development work in a collaborative environment, BeProduct has made digital transformation accessible. And we are confident that our partnership with BeProduct will be a critical component of our plans for the future."
With integrations to leading 3D design and simulation tools, BeProduct is also expected to be part of Faherty's digital product creation strategy, and the potential for future innovation is an area where both BeProduct and Faherty's visions align.
"Few brands have a mission as inspiring as Faherty's, and we are thrilled to have their creative, technical, and commercial teams working successfully towards their goals in BeProduct," says Matthew Cochran, BeProduct's SVP of Strategy. "We believe strongly in continuously developing a Digital Product Platform that stays several steps ahead of the market, and in making that platform accessible to businesses of all sizes, from emerging to enterprise – allowing them to shape the solution through use. We look forward to working with Faherty to make sure that all our partners have the right tools to work smarter and more sustainably."
About BeProduct (http://www.beproduct.com)
BeProduct is the cloud-native, collaborative Digital Product Platform. Low-code and fully-featured, BeProduct works seamlessly with the services you love.
About Faherty Brand (http://www.fahertybrand.com)
Founded in 2013 by Mike and Alex Faherty and Kerry Docherty, Faherty is a family-run lifestyle and apparel brand fuelled by purpose and optimism. For us, life and work are both family affairs — welcoming, comfortable, timeless. We made our teenage dream of a sun-soaked brand come true, and every day we look forward to making high-quality, sustainably-minded, feel-good favorites that will bring you joy to wear.
BeProduct is a registered trademark of Wink Software. All other brands and product names may be trademarks of their respective owners.