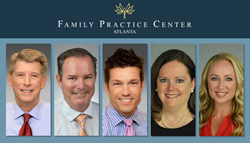 ATLANTA (PRWEB) April 07, 2021
Dr. James Wheeler, practice Founder and CEO of Family Practice Center, is proud to announce that the practice has been selected as Top Doctors in Georgia for 2021 by USA Top Docs. This list of the top doctors & dentists in the state of Georgia is selected annually. Honorees this year include Dr. Wheeler, Dr. C. Steven Schramm, Dr. Tyler Wheeler, Dr. Leah Tobin, and Dr. Cassandra Barnes.
USA Top Docs is an independent organization that aims to help guide consumers to the best available healthcare providers in a variety of fields. Currently operating in 14 states, USA Top Docs uses a formal application and review process to determine which doctors are worthy of being designated as a Top Doctor. Before any selections are made, their selection committee uses an objective criteria that takes several factors into account including each candidate's board-certifications, years of experience in their respective field, professional achievements, and patient reviews.
"My fellow doctors and I are sincerely so proud to have been named Top Doctors in Georgia," says Dr. James Wheeler. "All of the healthcare providers here at Family Practice Center pride ourselves on offering our patients the very best and most professional medical care possible. Receiving this kind of recognition is both validating and also incredibly helpful to future patients looking for a sign of quality and dependability when trying to select their healthcare provider. This level of care and attention is a big reason why Family Practice Center has received over 500 5-star reviews from patients and is one of the highest rated family medicine practices in the southeast."
About Family Practice Center
Founded in 1979, Family Practice Center is a comprehensive medical practice offering a wide variety of healthcare services to patients in the metro Atlanta area. In addition to internal family medicine, the experienced healthcare providers at Family Practice Center perform women's health services, dermatology treatments, sports medicine, and preventive medicine. Family Practice Center is able to provide in-house diagnostic testing including X-rays, blood work, ultrasounds, echocardiograms, and more in their office. In an effort to provide each patient they see with the courtesy, care, and comfort they deserve, Family Practice Center offers additional services including telemedicine visits with eVisit™, waiting room concierge service, and more. This is why the team at Family Practice Center is among the highest-rated in the entire Southeast.
To learn more about Family Practice Center or to schedule an appointment, visit https://familypracticecenterpc.com or contact their office by phone at (404) 256-1727.