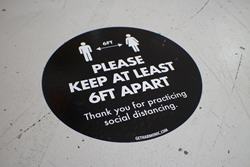 We have the equipment and the talent, why wouldn't we channel our efforts toward joining the fight against coronavirus?
DENVER (PRWEB) April 08, 2020
Denver-based Harmonic Media is producing face shields, social distance decals, temporary medical tents, and PPE gowns in response to the coronavirus outbreak.
As COVID-19 forced a majority of Americans inside their homes, small business owners Barb and Tyler Lindvall braced themselves for a rough few months. Though the couple started Harmonic Media just before the 2008 recession, and are no strangers to adapting to a shifting economy, this time felt different.
Harmonic Media is a Denver-based print and graphics shop, providing custom fabrication solutions for corporate events, trade shows, entertainment venues, and more. But with most events now canceled or on hiatus, how could the Lindvalls possibly keep operations running and avoid layoffs? They needed a pivot strategy ASAP. And then came the silver lining - Governor Polis's announcement that businesses like Harmonic are essential, and could remain open.
"It just seemed obvious," says Barb Lindvall, CEO of Harmonic Media. "We have the equipment and the talent, why wouldn't we channel our efforts toward joining the fight against coronavirus?"
In addition to fulfilling current orders, Harmonic Media is also fabricating personal protective equipment in response to the COVID-19 pandemic. The expanded line of personal protective gear includes face shields, social distancing decals, gowns, and temporary medical rooms.
"We're not a multi-billion dollar company, so it's not like we could make a huge corporate donation. But as a small business owner, it feels really good to know there's a way to keep our employees working and help the cause at the same time," said Tyler Lindvall, Harmonic Media's Founder and CMO.
The current CDC guidelines recommend people in the U.S. wear a homemade mask or cloth over their faces in public areas and stay at least 6 feet apart to prevent transmission of the novel coronavirus. Face shields can provide an extra layer of protection in retail, construction, or health care environments to help prevent the spread of droplet borne pathogens. Social distancing decals can be applied in public spaces to serve as visual cues as to what six feet apart really looks like.
Contact Harmonic Media to place an order, request more information, or learn more. Harmonic is taking new, non-PPE orders and is fulfilling all previously placed orders.
Harmonic Media provides custom large format and graphic solutions for businesses of all sizes in Denver, throughout Colorado and beyond. Visit us on Facebook and Instagram.