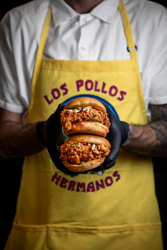 For the longest time, I've harbored the idea of a real-life Los Pollos Hermanos where Breaking Bad fans could savor Gustavo Fring's chicken," said Vince Gilligan, creator of Breaking Bad and co-creator of Better Call Saul. "Little did I realize this could be accomplished without building an actual b
LOS ANGELES (PRWEB) October 24, 2019
Family Style Inc.'s Breaking Bad Themed Los Pollos Hermanos Virtual Restaurant to Launch Exclusively on Uber Eats
Family Style Inc., in conjunction with Sony Pictures Consumer Products, will be launching a Los Pollos Hermanos virtual restaurant, inspired by the restaurant chain owned by the infamous Gustavo Fring in the hit television series Breaking Bad and Better Call Saul. The three-year long deal will roll out exclusively on Uber Eats beginning October 24.
The Los Pollos Hermanos virtual restaurant will highlight themed items such as Pollos Tenders, Fring Fries and the ABQ Hot Chicken Sandwich: a buttermilk battered fried chicken breast served on a buttered bun with dill pickle chips and a whole grain mustard spread. It comes with a dollop of "Slaw Goodman" on the side for the perfect bite.
Los Pollos Hermanos will be available first in Los Angeles before expanding to San Francisco, Oakland, San Diego, Las Vegas, and Chicago. Uber Eats is offering one week of free delivery every month on all Los Pollos Hermanos orders during this six-month exclusive partnership.
"For the longest time, I've harbored the idea of a real-life Los Pollos Hermanos where Breaking Bad fans could savor Gustavo Fring's chicken," said Vince Gilligan, creator of Breaking Bad and co-creator of Better Call Saul. "Little did I realize this could be accomplished without building an actual brick-and-mortar restaurant. Yay, technology! Smart phones actually are good for something!"
The team at Better Call Saul, which is currently in post-production on its fifth season, was able to taste-test the full menu. "I loved this idea when I heard it, but I knew the devil was in the details — the food needed to be not just good, but great," continued Gilligan. "I'm relieved to report that the folks at Family Style got it right: their chicken sandwich is big and crispy on the outside, tender and juicy on the inside, and it rests on one of the better brioche buns I've come across. It doesn't skimp on the spices, either. Don't worry, it won't set your mouth on fire... but it's got a good kick to it. I think Gus would approve."
About Family Style Inc.
Family Style Inc. 's Built for Delivery kitchen network currently operates 23 Enlightened Kitchens spanning California, Nevada, and Illinois, with plans for nationwide expansion in 2020. Family Style is committed to creating chef-driven virtual restaurants offering convenience and crave-ability to consumers worldwide.
About Sony Pictures Consumer Products
Sony Pictures Consumer Products (SPCP) is the licensing and merchandising division of Sony Pictures' Motion Picture Group and Sony Pictures Television for Sony Pictures Entertainment (SPE), which is a subsidiary of Tokyo-based Sony Corporation. SPE's global operations encompass motion picture production, acquisition, and distribution; television production, acquisition, and distribution; television networks; digital content creation and distribution; operation of studio facilities; and development of new entertainment products, services and technologies. SPE's Motion Picture Group production organizations include Columbia Pictures, Screen Gems, TriStar Pictures, Sony Pictures Animation, Stage 6 Films, AFFIRM Films, and Sony Pictures Classics. For additional information, visit http://www.sonypictures.com/corp/divisions.html.
About Uber Eats
Uber Eats allows people to search for and discover local restaurants, order a meal at the touch of a button, and have it delivered reliably and quickly. Since launching the Eats app three and a half years ago, the business has leveraged Uber's technology and logistics expertise to serve 500+ cities globally and partner with more than 222,000 restaurants, all while keeping average delivery time under 30 minutes.
For Family Style Inc., please contact:
Jenni Weinman weinman@thecurrentco.com
For information about Breaking Bad or Better Call Saul, please contact: Amanda Munoz-Temple
Amanda_Munoz-Temple@spe.sony.com
For Uber Eats, please contact: Becky Katz Davis beckydavis@uber.com