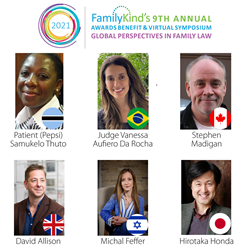 "Global experts representing the courts, family law, mental health and the non-profit sector, will be sharing what they learned this past year and examining how their new strategies can be utilized by all of us to help families, even beyond the pandemic," says Lesley Friedland, FamilyKind
NEW YORK (PRWEB) March 01, 2021
Expert voices from around the world, representing diverse perspectives and specialties, will address how they had to adapt to support families going through separation and divorce during the COVID-19 Pandemic. Professionals from Botswana, Brazil, Canada, England, Israel, Japan and the United States will be presenting new best practices at FamilyKind's March 11th symposium entitled Global Perspectives in Family Law and the COVID-19 Pandemic.
"We are honored to have such distinguished professionals representing the courts, family law, mental health and the non-profit sector, sharing what they learned this past year and examining how their new strategies can be utilized by all of us to help families, even beyond the pandemic," says Lesley Friedland, Esq., founder and executive director of FamilyKind, a nonprofit dedicated to empowering children, parents and couples before, during and after separation or divorce — no matter their family configuration or financial situation.
Speaking at the symposium, which will be held virtually and globally on Thursday, March 11, 2021, 2:00 – 5:30 PM, will be:
▪ Patient (Pepsi) Samukelo Thuto, attorney at law and founding partner of Chibanda Makgalemele & Company (Botswana) Her practice focuses on all areas of family law.
▪ Judge Vanessa Aufiero Da Rocha, representative of the Brazilian Judicial System (Brazil) She added the Parental Education Program for the National Council of Justice, in 2013, in order to help families, overcome the many difficulties of divorce.
▪ Stephen Madigan, MSW, MSc, Ph.D., marriage and family therapist (Canada) He opened the Vancouver School for Narrative Therapy through Yaletown Family Therapy (Canada)
▪ David Allison, solicitor, mediator & collaborative lawyer at Family Law in Partnership Ltd, (England) His practice focuses on international divorce as well as the legal issues affecting cohabitants, same sex couples and civil partners.
▪ Michal Feffer, attorney, founder and executive director of In-Between (Israel) Through social innovation, this nonprofit supports Israeli children and families experiencing divorce.
▪ Hirotaka Honda, barrister, solicitor and attorney at The Honda Law Office (Japan) Much of his practice focuses on cases of divorce/dissolution, family violence/abuse, and LGBTQ issues.
▪ Maurice Q. Robinson (Moderator) is an alternative dispute resolution professional who holds many positions, including adjunct professor at Benjamin N. Cardozo School of Law's Kukin Program in Alternative Dispute Resolution.
The symposium is co-sponsored by the New York Women's Bar Association Children's Rights Committee. CLE credits pending. CE contact hours for NYS social workers offered.
Click here to see speaker videos.
The event will also honor distinguished professionals who have supported families through innovative and family-centered approaches to Family/Matrimonial Law: Justice Jacqueline Silbermann and Phillip Katz, Esq. This global symposium and Awards Event is sponsored by law firms, businesses, and professionals that support and advocate for families, including Platinum Sponsors Pamela M. Sloan, Esq., and Dobrish Michaels Gross LLP.
Following the symposium, the Annual Awards presentation from 5:45 – 6:30 PM will honor:
▪ The Hon. Jacqueline Silbermann, Administrative Judge of Supreme Court, Civil Branch, New York County (Retired) and Special Counsel, Dobrish Michaels Gross LLP. Justice Silbermann will be receiving The Honorable Sondra M. Miller Award for her stellar career working on behalf of New York families, in the court system and now in the private sector.
▪ Philip Katz, Esq., Partner, Fink & Katz. Katz will be receiving the 2021 FamilyKind Service Award for his creative efforts to organize the Assigned Counsel Panel of the New York County Family Court to support families impacted by court closures during the COVID-19 lockdown in 2020.
▪ FamilyKind will also make a special presentation to The Hon. Evelyn Frazee, J.S.C., Justice, New York Supreme Court Seventh Judicial District (Retired) for her leadership in promoting parent education for divorcing and separating parents in New York.
Performing at the benefit will be world-class entertainers Imani Mchunu Grosvenor, Soprano, and Paul Grosvenor, Bass. Professional musical artists based in Brooklyn, this duo performs opera, operetta, musical theatre, and concert works in Europe and North America.
For more information on the symposium and benefit, and to purchase tickets, click here.
FamilyKind is a nonprofit organization dedicated to empowering children, parents and couples before, during and after separation or divorce — no matter their family configuration or financial situation. FamilyKind offers classes and programs for parents, children and teens as well as informational workshops for professionals. FamilyKind also provides high-quality mediation, parenting coordination, co-parenting communication, and family relationships coaching services at a sliding scale for those who qualify. http://www.FamilyKind.org
https://www.facebook.com/FamilyKind/
https://twitter.com/familykind
https://www.linkedin.com/company/familykind
https://www.instagram.com/familykindltd/?hl=en