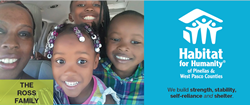 "Home-ownership is more than just having physical house - it's allowing a family to have a space where they feel safe, a place to grow and make memories together. We are so happy to be able to help provide this opportunity to the Ross family."
TAMPA, Fla. (PRWEB) December 10, 2019
The holidays are often cause for celebration. This season of giving, MaintenX International announced their second sponsorship of a Habitat for Humanity home at their Christmas Celebration. The $87,000 sponsorship allows the Ross family, a local Pinellas County family, to achieve their goal of home ownership and is the true reason for celebration.
Both the Ross family and the 2019 MaintenX sponsored home recipients, the Garcia-Sparling Family were in attendance at the MaintenX Holiday party at Tabellas on Sunday. There was plenty of food and games and of course the Check presentation to Habitat of Pinellas and West Pasco Counties for the new home.
"Homeownership is more than just having physical house," said Bill Schaphorst, MaintenX's VP of Business Development. "It's allowing a family to have a space where they feel safe; a place to grow and make memories together. We are so happy to be able to help provide this opportunity to the Ross family."
Lawshawn Ross, a preschool teacher and mother to three, is grateful for the chance to create a better life for her children.
"Habitat for Humanity is heaven sent. Not only will they help me become a homeowner, they will help me become a better mother," said Ross.
MaintenX focuses on providing best-in-class facility preventative and reactive maintenance for buildings across the nation. That's why it's particularly rewarding to put the MaintenX Super Service Team's roofing, plumbing, HVAC and electrical skills to use for a family in need. Team members' experience is sure to help make assisting with home construction a breeze.
As part of the Habitat for Humanity Homeownership program, Ross will be asked to complete 450 on-site 'sweat-equity' hours, 16 homeownership classes and save $1,000 for a down payment. After she completes these requirements, Ross will be able to purchase her home with a zero-interest mortgage. Groundbreaking will begin in the first quarter.
For more than 40 years, MaintenX has been involved caring for customers and the local community. To learn more about MaintenX and the services they provide, visit http://www.maintenx.com.
ABOUT MAINTENX INTERNATIONAL:
MaintenX International is a fully licensed, facilities repair company. As one of the largest national self-performing facility maintenance and repair companies in the U.S., MaintenX has created a wide network of knowledgeable and professional technicians throughout the country. With their team of well-trained technicians, MaintenX self-performs and manages facility maintenance for their clients. In the event there is not a MaintenX technician in an area, the company has established a network of preferred vendor partners throughout the country for continued superior service for their clients. For more than 35 years, MaintenX has been expertly serving multi-location retail stores, restaurant chains and Fortune 500 companies nationwide.
###