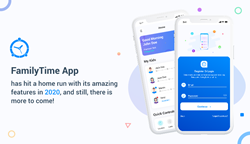 "FamilyTime has got a surprise for all its users this coming Christmas. We have planned something big for all our valuable customers. They will be amazed soon." Says M.Imran, the marketing head of FamilyTime.
LOS ANGELES (PRWEB) December 10, 2020
In recent years the trend of using parental control apps has gained momentum among parents, and one app that has emerged on the surface is FamilyTime. Surely the app does not need any introduction as anyone who searches for the best parental control app knows about FamilyTime already.
FamilyTime is a complete parental solution for parents of this digital age. In this year 2020, the makers of the app worked on many functionalities and brought significant updates to the features of monitoring and parental control. The functionalities improved in 2020 included:
Internet filtering: Internet filtering is one most demanded feature of FamilyTime. According to the team, about 32% of parents use the FamilyTime app because of its internet filtering feature. This year, the team added more key terms to the predefined content block list and updated app's algorithms to make sure that kids access no inappropriate content.
Schedule screen time: Another preferred feature of FamilyTime app is the time scheduler that has made the life of parents way too easy. With this improved screen time scheduler, parents can not only schedule device usage weeks and days but hours too. With that, a new set of predefined schedules has been introduced in the name of Homework time, Dinner Time and Bedtime. In these schedules, you can set your preferred time and keep your kids' devices locked. Obviously, with these, there are custom schedulers available too.
App blocking: In addition to screen time, app blocking is also an incredible feature that parents look for. The feature has got many improvements, such as the addition of a temporary app blocking facility. Parents can now block apps either permanently or temporarily. They can also ban the apps during specific hours. With this, any new app downloaded on the kids' device is blocked by default. They can only use it once the parent reviews and permits the app.
Location tracking: Location tracking of FamilyTime and has got a lot more accurate. Using FamilyTime' location tracking, parents can locate their kids as soon as they go about 100 meters away from the parent's device to the limit he can travel.
With this, there were improvements in device compatibility. FamilyTime is one app that allows parents to monitor their kids' Android devices with their iPhone or iPad and vice versa.
Taking into account the rising hype of the app among parents, we talked to the marketing head of team FamilyTime and asked him to share his feeling on the success of the app and future endeavours. Expressing his views on the success of the app, M.Imran, the marketing head of FamilyTime said, "It feels great when a parent comes to us and share their experience with FamilyTime in a positive way. We have heard many parents saying that the app has worked as a saviour for their kids and using the app they have safeguarded their kids. Hearing these words from parents feels like our effort has been paid off." He also talked about upcoming plans and said, "FamilyTime has got a surprise for all its user in this coming Christmas. We have planned something big for all our valuable customers. They will be amazed soon."
His statement has made many parents anxious like us. So now, let's us all wait for the reveal of our Christmas gift from team FamilyTime.
The FamilyTime parental control app is available on Google Play Store, and App Store with all its features for free download and instant Sign Up.
FamilyTime is the leading parental control app that empowers parents to keep a safety check on their children digitally. For more information and details, visit their website or call +18667231238 for technical support.