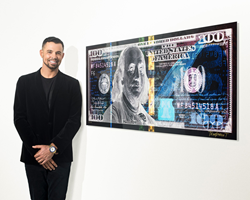 "My money art is TRANSPARENT, My artist name is TRAN$PARENT and my message to humanity is about being TRANSPARENT. Be honest and true to your loved ones, your business associates, but most importantly to yourself. Never let money change who you are, no matter how much you make, always stay humble."
MIAMI (PRWEB) November 30, 2018
Many are starting to say that Josh Leidolf aka TRAN$PARENT is Miami's hottest money artist right now and the most revolutionary money artist on the planet. When you see one of his museum quality, gallery contemporary detailed transparent metallic images in person you will become a believer as well. At least the rich, famous and influential are! With guest appearances and special visits from Car Mogul Rick and Rita Case and a private special performance by Platinum recording artist Jason Derulo at this year's 31st annual Boys & Girls Club Yacht Rendezvous on Miami's Fisher Island and at the Ritz Carlton Key Biscayne, TRAN$PARENT absolutely stole the show raising a hefty sum for the reputable and worthwhile charity. NFL Living Legend Dan Marino, Seminole Council Rep Chris Osceola, Capt Lee of Bravo's hit show Below Deck, private wealth managers, business owners and the founder of Yachtlife Patrick Curley and many other productive and influential members of society have already jumped on the TRAN$PARENT TRAIN and for a good reason.
@TransparentArtist, on IG, is the only money artist on Earth that is depicting all three layers of the bill on one image. The front, the back and even the hidden security features in the middle. It's a totally new revolutionary concept and he only uses the finest museum quality archival metallic paper press mounted between fine art acrylic and aircraft aluminum, with aluminum brackets attached on the back ready to hang. It's called a gallery contemporary and they are unbelievable in person with extreme depth, color, quality and detail under the proper lighting. So it's presented more like a Peter Lik, but way cooler and with an amazing story to tell. He is also the only money artist doing this level of quality and his pieces are all the exact proportion to its respected bill, so the image isn't distorted in any way. Even certain pieces showcased in mega size, framed and at almost six and a half feet wide and three feet tall are wildly vivid, bold and precise. His pieces are an absolute show stopper in any home, office, man cave or yacht. Lastly, his pieces are super limited editions. For the artist proofs (APs) there are only 5 in the world hand signed and individually numbered. Quality controlled by the artist himself each and every time.
TRAN$PARENT Money Artist creates all American denominations from the $1 through the $10,000 and various rare and international currencies as well. He has traveled to over 50 countries in his life collecting currency that he is proud to beautify and add to your art collection. From Pounds to Euros, Shekels, Yen, Yuans, South American and Cuban notes and even ridiculous Bitcoins, he pretty much does them all and the workmanship is impeccable. Each image can take him up to 6-8 weeks to perfect and he also does custom pieces as well for businesses or as gifts. He is working on a custom pieces for the Hard Rock Hotel and Casino, Blue Marble Cocktails, Dwayne Wade, Pitbull, Udonis Haslem, the owners of 305 Films and Lamborghini Wine and Champagne as we speak. His clients include affluent private collectors, famous athletes, and celebrities as well as well-known businessmen and politicians. It's true investment art and it appears to only be going up. TRAN$PARENT is a perfectionist, again certain images can take him up to two months to perfect and lucky for his collectors, TRAN$PARENT wants them satisfied to the fullest every time they take a glimpse at his cutting edge art that other artists are becoming incredibly envious of. To read more on this talented young artist, please click HERE