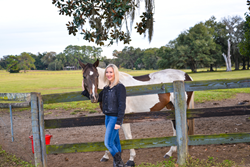 "Since affiliating herself with Engel & Völkers, Carrie has become the go-to person known for successfully selling unique and luxurious homes in her market," said Peter Giese, Chief Executive Officer at Engel & Völkers Florida.
NAPLES, Fla. (PRWEB) January 14, 2022
Engel & Völkers Florida today announced a new listing by Carrie Cason with Engel & Völkers Gainesville. Cason is representing the 'Snooty Fox Farm,' a 341-acre property located on NW County Rd 239 in Alachua, Florida. It is offered at $5,499,000. The land has been used for the last 49 years as a thoroughbred horse farm by the Cotter family; in which time it developed an impressive pedigree of award-winning racehorses.
This is a beautiful legacy property that has contributed to the rich history of our area," said Cason, License Partner of Engel & Völkers Gainesville. "Having produced several award-winning thoroughbred horses, it is clear that these facilities are top-notch for equestrian training. The home fits the equestrian style and is complete with beautiful wood finishes from floor to ceiling. It's situated on a hill with beautiful views of the sunset and rolling pastures. Located within an hour of the famous World Equestrian Center, this property is a true horse-lover's dream!"
The Snooty Fox Farm earned a place in equine history as the birthplace of two Wood Memorial winners and one Kentucky Derby participant. The Cotters owned 'Hurry Home Hillary,' a mare who gave birth to a colt named 'Bellamy Road.' This foal was owned by the Kinsman Stable, the nom de course of George Michael Steinbrenner III, and went on to win the 2004 Cradle Stakes and 2005 Wood Memorial Stakes, amongst others. He was considered a favorite for the 2005 Kentucky Derby, but finished seventh. He then ended his career with a second place finish in the 2005 Travers Stakes. The Cotters bred 'Toby's Corner' from Bellamy Road, who was the winner of the 2011 Resorts World New York Casino Wood Memorial Stakes and more.
"Carrie came highly recommended by multiple people," said Carrie Cotter, part owner of the property. "Alachua is a niche market and this property requires a unique buyer, so we wanted to garner as much exposure as possible with a global company like Engel & Völkers."
The 341-acre property offers an eight-stall barn with four adjacent paddocks, grass show jumping ring, feed room and workshop, and three fenced pastures. The 4,904 square foot home contains four bedrooms, three bathrooms, a living room, formal sitting room, dining room, library and study, laundry room, and two game rooms. The house, which is centered around the kitchen, features wide-plank, tongue and groove hardwood floors throughout, as well as a walk-in cupula with 360-degree views of the property.
"Since affiliating herself with Engel & Völkers, Carrie has become the go-to person known for successfully selling unique and luxurious homes in her market," said Peter Giese, Chief Executive Officer at Engel & Völkers Florida. "Due in part to the Engel & Völkers + Land Rover Polo School and the tournaments it sponsors, our brand has become synonymous with selling equestrian properties across the globe."
Cason came to Engel & Völkers in 2020 when she secured the franchise rights to Alachua and Columbia Counties. Her first shop, Engel & Völkers Gainesville is slated to host an official grand opening on February 3, 2022. She has represented several record-breaking transactions including 'Honey Lake Plantation,' located in Madison County for $6.5 million in 2016. The 'Double Barrel Ranch' is currently under contract for $4,995 million; the previous highest sale price for a single-family home in Lake City was $1.73 million. She has been in the real estate industry for over twenty years, earning her brokers license in 2004 and designations such as the GRI and CCIM along the way. She has closed over 600 transactions throughout her career, totaling a volume of more than $150,000,000.
###
Press contact:
Linzee Werkmeister, Junior Vice President, Marketing & Franchise Support
Email: Linzee.Werkmeister(at)evrealestate.com
Tel: (239) 348-9000
About Engel & Völkers:
Engel & Völkers is a global luxury real estate brand. Founded in Hamburg, Germany in 1977, Engel & Völkers draws on its rich European history to deliver a fresh approach to luxury real estate in the Americas with a focus on creating a personalized client experience at every stage of the home buying or selling process for today's savvy homeowner. Engel & Völkers currently operates approximately 240 shop locations with 5,000 real estate advisors in the Americas, contributing to the brand's global network of over 14,000 real estate professionals in more than 30 countries, offering both private and institutional clients a professionally tailored range of luxury services, including real estate and yachting. Committed to exceptional service, Engel & Völkers supports its advisors with an array of premium quality business services; marketing programs and platforms; as well as access to its global network of real estate professionals, property listings and market data. Each brokerage is independently owned and operated. For more information, visit http://www.evrealestate.com.
About Engel & Völkers Florida:
Engel & Völkers Florida is the Master License Partner of the global luxury real estate brand Engel & Völkers in the state of Florida. Recognized for uniquely recruiting, training and equipping some of the top professionals in the real estate industry, Engel & Völkers Florida's exclusive business model positions its franchisees at the top of the premium market to gain market share and support their bottom line. The company represents franchise locations in 44 markets: 30A Beaches, Amelia Island, Belleair, Boca Raton, Bonita Springs-Estero, Cape Coral, Clermont, Delray Beach, Destin, Fort Lauderdale, Fort Myers Downtown, Gainesville, Hollywood Beach, Islamorada, Jacksonville, Jacksonville Beach, Jupiter, Madeira Beach, Marco Island, Melbourne Beachside, Melbourne Central, Melbourne Downtown, Miami Coconut Grove, Neptune Beach, Ocala, Olde Naples, Orlando, Orlando Downtown, Orlando-Winter Park, Palm Beach, Palm Coast, Pompano Beach, Ponte Vedra Beach, Sarasota, South Tampa, St. Augustine, St. Pete, St. Pete Beach, Stuart, Tampa Water Street, Venice Downtown, Vero Beach, Wellington, and Windermere.
Engel & Völkers Florida is continuing to strategically strengthen and expand its presence in premium real estate markets across the state of Florida. If you would like to know more about the Engel & Völkers brand or how to join its global network—which is known for demonstrating competence, exclusivity and passion, feel free to call our corporate office, located at 633 Tamiami Trl N, Suite 201, Naples, FL 34102 USA. Tel: +1 239-348-9000.
For more information about Engel & Völkers Florida, please visit http://www.florida.evrealestate.com