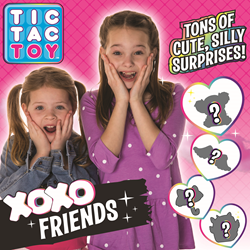 Tic Tac Toy appears to be the next influencer-to-retail phenomena
MINNEAPOLIS (PRWEB) July 24, 2019
Tic Tac Toy's new line of XOXO Friends toys are packed with surprises. With a unique unboxing experience, kids reveal seemingly endless toys and wonderment by following the numbers on the blind-boxes that are cleverly marked with X's and O's.
Tic Tac Toy's journey to the top began three years ago when parents Lucy and Jason noticed their charismatic girls, Maya (six years old) and Addy (nine years old), watching unboxing videos on YouTube. What started as a family-bonding experiment quickly became an entertainment powerhouse living under one roof. Fast forward to today and Tic Tac Toy product is already off to a great start in what appears to be the next influencer-to-retail phenomena.
"Walmart and Target are supporting Tic Tac Toy in a tremendous way, as they have seen first-hand the colossal success that influencers can drive at retail. The line of XOXO Friends we've designed with Tic Tac Toy replicate the imagination, entertainment and fun which are the cornerstones of their digital success," says Bill Nichols, Blip Toys CEO.
To kick-off their introduction to the toy aisle, the Tennessee-based family has partnered with Walmart for a public meet-and-greet with fans at their local (Franklin) Walmart store come August 24th. Their highly anticipated line of collectibles includes palm-sized XOXO Friends (some resembling the likeness of Addy and Maya), colorful wings that are swappable between figures, silly accessories, glittery bracelets and even putty. Ranging from figures to plush, kids can mix and match the wings and accessories to create their favorite flying combinations.
Come one, come all. Tic Tac Toy's early success is proof the "era of the influencer" at retail has only just begun.
About Tic Tac Toy
Established in 2016, Tic Tac Toy's YouTube channel is the newest household name known by kids near and far. Maya(6) and Addy(9) entertain billions of young fans with their channel's engaging and imaginative roleplay. Together their family brings kids' wildest fantasies to life with super fun and hilarious videos where the only homework kids ever receive are toy unboxings and the only medicine ever prescribed is toys. Tic Tac Toy has innovated kids' screen-time experience with a brand new series, Toy Makers XOXO, which engages their fans and brings them along on their journey as they develop their personalized line of XOXO Friends.
About Blip Toys
Bill Nichols established Blip Toys in 2000 with a passion for making high quality toys for today's kids. Blip Toys is a trend-driven global marketer of high-volume toy concepts including dolls, collectibles, plush animatronics, activity, outdoor novelty and action toys.