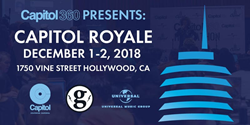 "We are thrilled to partner with Capitol360 on this event and to showcase our brand and our new products with one of the leading players in music", said CEO of Fanbox®, Jeff Smith
HOLLYWOOD (PRWEB) December 03, 2018
Fanbox.com, the leading provider of Subscription, VIP and Hospitality boxes, today announced the expansion of its brand to include Fanbox Legends® for music and sports and Fanbox Festival® for music, gaming, business and other festivals. These brands join Fanbox Favorite Things®, Fanbox VIP®, and Fanbox Private Label including Faithbox® as key areas of focus for the company.
The company, which prides itself on crafting uniquely curated subscription boxes for brands with fans works with A-List musical artists, influencers, sports figures and corporations and has offices in Los Angeles, New York, Nashville, and Omaha. Every Fanbox includes "Do Good" items sourced through companies that address social challenges such as poverty, homelessness, addiction and violence. Fanbox has spent over $750,000 with these social entrepreneurs in 2018 alone.
Fanbox made the announcement as part of its participation in Capitol Royale, an event sponsored by Capitol Recordsfocusing around entrepreneurship in the music industry. "We are thrilled to partner with Capitol360 on this event and to showcase our brand and our new products with one of the leading players in music," said CEO of Fanbox®, Jeff Smith. "The gBeta MusicTech program, jointly sponsored by gener8tor and Capitol Records, was the catalyst for our relationship and we cannot thank them enough."
Additional brand information
Fanbox® Festival
Fanbox has a full team of experts that help with product development, box curation, in-line ticket sale setup, group sales, and fulfillment through the mail and on the ground at the event. Festival boxes provide an additional revenue stream for the festival while providing convenience and a shared fan experience before, during and after the event.
The process includes an upgradeable credentials box, a "survival" box for use during the festival, and a commemorative/collectible box delivered after the festival to allow the fan to relive the experience for years to come.
Fanbox® Legends
From music to sports to business leaders, great performers have shaped the world we live in today. Fanbox curates boxes that showcase never before seen or heard content including memorabilia, film, music, and products loved by the Legend. Get to know your favorite performers with Fanbox Legends.
To learn more about Fanbox or to book an interview, contact Ashley Blankenship at 212-220-3647 or ashley@fanbox.us, or visit the website at http://www.fanbox.com.
About Fanbox®
Fanbox is a subscription box partner for Artists, Celebrities, Brands, Media Companies, Festivals, Athletes and Sport Franchises built around an experience. These experiences include products, content, and premium access packaged in a high impact full-color box delivered as an upgrade during ticketing, a VIP event experience, as a series, or as a subscription. We provide full turnkey services including investment, manufacturing, procurement, fulfillment, ecommerce/onsite sales and customer service.
About Capitol360 Capitol Royale
Capitol Royale is a creativity and innovation marathon held at the historic Capitol Records Tower in the heart of Hollywood. Live for two days on Twitch, the event features a hackathon, an ideas conference, a startup exhibition, and activities at the intersection of music, technology, and culture.