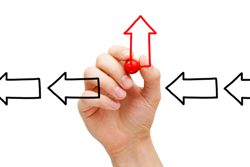 Simply increasing web traffic isn't going to give businesses the revenue they need.
Seattle, WA (PRWEB) December 04, 2014
Anyone looking to learn how to use their website to make money need look no further — the recent article from Fannit.com explains how to use calls to action (CTAs) to guide viewers and readers down the sales funnel, turning visitors into customers.
"One of the biggest questions asked is, "How do I turn my website's viewers into buyers?" Sure, people might visit your website and browse for a little bit, but you still haven't sold them anything. You need those visitors to somehow turn into customers," says Fannit.
They explain that spending a lot of cash on simply increasing website traffic isn't going to give businesses the revenue that they desperately need. Instead, they need methods to gain qualified leads that aren't just viewers, but leads.
The article walks readers through understanding the various forms and types of conversions, including micro and macro conversions, as well as giving tips on how to design an effective CTA. The choice of wording, color scheme, and layout are all very important.
Fannit concludes by saying, "If you would like to increase your websites conversion rates and move more of your viewers down the conversion funnel, but lack the resources or time to develop your own CTAs, there are other options." Fannit specializes in creating effective CTAs and other marketing strategies.
To learn more about Fannit and their services, click here.
About Fannit
Fannit.com is a full service internet marketing agency that helps companies increase their online presence through engaging and well placed content. They service Seattle area and U.S. based companies for content development, SEO, PPC, E-mail, Press Release, and Website Funnel Optimization.
Fannit
2911 Hewitt Ave
Everett WA 98201
425-359-7989