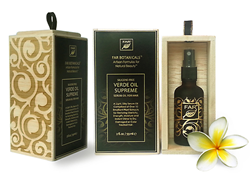 Another feature of Verde Oil Supreme is its ability to be converted into a fine hair perfume by choosing from FAR Botanicals' two fragrance collections: Terra Antiqua and Art Nuevo
Richmond Heights, OH (PRWEB) June 02, 2015
FAR Botanicals® has created a super- moisturizing serum oil for hair that can also double as a luxury hair perfume. Tapping into a developing beauty trend, fine fragrances for hair, FAR Botanicals takes its new hair conditioning serum, Verde Oil Supreme (VOS), and gives customers the ability to buy the silicone-free serum oil with or without the addition of a designer scent.
Verde Oil Supreme is handcrafted in artisan batches with careful consideration taken in the choice of materials. Some of the raw components used in its creation can take several months to prepare. Infused with botanicals like Olive Squalane and Amla (Indian Gooseberry) Extract, VOS serum oil is designed to add shine, strength and softness to all hair types.
Another feature of Verde Oil Supreme is its ability to be converted into a fine hair perfume by choosing from FAR Botanicals' two fragrance collections: Terra Antiqua (100% natural fragrances) and Art Nuevo (natural essences blended with fine aroma molecules. Fragrance options for Verde Oil Supreme include: Low Scent which is the serum oil with no fragrance added, Vanilla Narcotique, Cocoa & Rum and Lavender Absolute which are 100% natural, and Blood Orange & Patchouli Musk, Rose Rapture, Temple Hymn and Lilikoi which are blended from natural essences and aroma molecules. VOS serum oil uses natural, certified organic and sustainable ingredients, and is certified cruelty-free.
Now through August 1st, wholesale cases of Verde Oil Supreme can be purchased at discounts ranging from 60% to 65% off regular retail price by going to the following link: http://pros-save.farbotanicals.com.
Another opportunity available during the special pre-order period is the option to have a custom fragrance created for Verde Oil Supreme that will be exclusive to a particular retailer. Retailers unfamiliar with the FAR Botanicals brand are invited to contact the company for a sample prior to placing a wholesale order.
Online shoppers are also able to secure a full-size bottle and samples of VOS at limited time discounts by visiting: http://vos-hair-oil.farbotanicals.com and by following the company's Twitter feed@farbotanicals.
Once the summer pre-order event ends, VOS serum oil will be available for purchase at the regular wholesale price. Retail prices for individual bottles of Verde Oil Supreme are $48 for the Low Scent option -and $52 for the fragranced version. VOS serum oil comes in, sustainable packaging: recyclable, hand-finished amber bottles encased by engraved Paulownia wood boxes. One bottle of VOS serum oil contains enough product to last between 4-6 months.
About FAR Botanicals®:
FAR Botanicals® (Fatty Acid Rich Botanicals), is a sustainable manufacturer of artisan-crafted hair care formulas designed to moisturize and strengthen dry, damaged or fragile hair. By tapping ancestral beautification rituals and combining them with modern innovations in Green Chemistry, FAR Botanicals provides natural-focused, carefully made alternatives to typical beauty care products on the market. FAR Botanicals is suitable for retail in fine salons, spas and luxury retailers. To learn more about the full range of FAR Botanicals offerings, visit http://farbotanicals.com/.