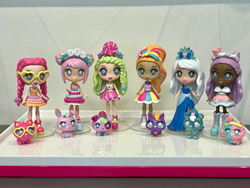 "2019 was a great year for our company," said Keith Meggs, CEO and Founder of Far Out Toys. "With solid relationships with inventors, retailers and licensors we are now poised to expand our business into new categories like dolls and interactive toys. New York Toy Fair provides the ideal backdrop to
EL SEGUNDO, Calif. (PRWEB) February 06, 2020
In 2020, Far Out Toys is building on its successful toy portfolio by expanding into new categories including fashion dolls and interactive pets.
The new doll line, Candies, combines two things girls love – fashion and candy! The innovative new line includes six highly articulated 4.5" scented Candies dolls that each comes with candy-inspired fashion accessories, an adorable pet, surprises that can be unwrapped, and even a real edible candy treat that kids can taste! The new Candies line launches Summer 2020 with an original YouTube series and social media campaign where girls will be inspired to "Flavor your Fashion".
Far Out Toys is also breathing new life into the interactive pet category with the launch of Playful Pandas. With infinite possible vocal responses, these cuddly Pandas will sing with you, laugh, giggle and roll. There are six different Playful Pandas to collect, and each comes with a unique song - and the fun multiplies when they sing together! The Pandas harmonize with each other, and the more the child sings with them, the better the Pandas perform!
2019 was an eventful year for Far Out Toys with successful retail programs at Walmart, Target and Amazon and a foundation of strong innovation and licenses including NASCAR, Disney and Ryan's World fueling growth. In 2020 Far Out Toys will expand with new products for its current brands including NASCAR Crash Racers, Ryan's World games and the Pulp Heroes collectible line, which is a finalist for a Toy of the Year Award. In addition, three new games will be added to the Far Out Toys game line up – Snot Nose, Hot Pot Lobster and Tic Tak Pop Block. And finally, inspired by popular carnival games, Clown Blasters allows kids to blast annoying clowns away.
"2019 was a great year for our company," said Keith Meggs, CEO and Founder of Far Out Toys. "With solid relationships with inventors, retailers and licensors we are now poised to expand our business into new categories like dolls and interactive toys. New York Toy Fair provides the ideal backdrop to reveal our new innovative products and showcase our long-term ambitions as a force in the industry."
About Far Out Toys
Far Out Toys Inc. is a rapidly growing force in the global toy marketplace, with a mission to innovate to the outer reaches. With fully integrated manufacturing, distribution and marketing capabilities, Far Out Toys leverages its expertise and extensive relationships with inventors, global distributors, IP holders and mass retailers to launch new brands in every toy category - including vehicles, arts & crafts, games, licensed collectibles, electronic toys and dolls. For more information, visit http://www.farouttoysinc.com.