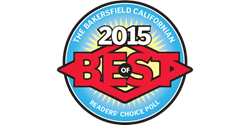 We handle all types of injury cases including injuries caused by farm equipment and oil field equipment
Bakersfield, CA (PRWEB) June 27, 2015
Bakersfield farm accident lawyers at Chain Cohn and Stiles have been representing victims of serious accidents for decades. For the third year straight, the people of Bakersfield and Kern County voted Chain Cohn and Stiles as the "Best Law Firm" through The Bakersfield Californian Readers' Choice Poll for 2015. "We are very proud to receive this acknowledgement and it is a testament to the dedication we give to all of our clients on every case we handle," says Attorney David Cohn who was individually recognized this year as "Best Lawyer."
More than 20 years ago, The Bakersfield Californian unveiled a contest where readers would select the best that Bakersfield had to offer. They nominated, voted, and chose the best restaurants, shops, services and people in our community. The winners are announced each year in Bakersfield Life Magazine. Attorney David Cohn says, "We handle all types of injury cases including injuries caused by farm equipment and oil field equipment. Our Bakersfield farm injury attorneys are highly experienced and they are dedicated to these types of cases, just like our other lawyers a dedicated to other areas of the law."
Farms, vineyards, orchards and fields can be very dangerous according to Attorney David Cohn. "There is a lot of heavy equipment used in the agricultural industry and frequently people are severely injured or even killed by this types of equipment." Chain Cohn and Stiles are experienced Bakersfield wrongful death lawyers and they frequently represent families who has lost loved one to farm and oil field accidents. "When people lose their lives due to the negligence of another party it is tragic. Common causes for these accidents include poorly maintained machinery, faulty equipment, bad working conditions, etc.," says Attorney David Cohn.
The Bakersfield wrongful death lawyers at Chain Cohn and Stiles thoroughly investigate every case they accept. They do this because they want to have a clear understanding of all of the circumstances surrounding the accident. This helps them to determine how many parties are at fault according to Matthew C. Clark, Senior Partner at the firm. "In a lot of cases more than one person or company is partially responsible for the accidental death. We keep our clients' best interests in mind and we dig deep to get financial compensation for families who have lost a loved one."
Bakersfield wrongful death attorney David Cohn says the most common cause of accidental death is motor vehicles. "Cars, trucks, busses, big rigs and motorcycles are the biggest problem. With all of the roadways that pass through Kern County like I5 and HWY 99, the likelihood of major accidents is higher than other places in California." Chain Cohn and Stiles has won some of the largest awards in Kern County for their clients and they always offer a no cost consultation for people hiring an accidental death lawyer.
To learn more about the farm accident and injury attorneys at Chain Cohn and Stiles please visit their website. To learn more about the Reader's Choice Awards please see the Bakersfield Life Magazine. People can also learn more about the firm by watching their online videos which include attorney profiles or people can read their positive reviews and news stories. To take advantage of the no cost consultation please call (661) 323-4000 now to speak with an experienced personal injury lawyer in Bakersfield.
Chain | Cohn | Stiles
1430 Truxtun Ave
Bakersfield, CA 93301
(661) 323-4000
chainlaw.com