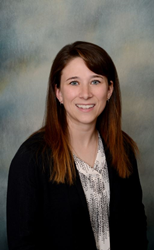 "Jesse is a welcome addition to the processing team bringing her customer service experience. She enjoys working to help borrowers get the service they expect from the FCV team." - Katrina Davis, Loan Operations Supervisor
HARRISONBURG, Va. (PRWEB) October 06, 2019
Michael grew up in Weyers Cave, Virginia, where she was raised on her family's Hereford and Angus beef cattle operation. Now residing in Staunton, her and her husband are continuing the family legacy, and are proud to be running their own beef cow/calf operation. She shares, "Having your own cattle and loans has really helped me understand the ins and outs of the lending process."
She attended and graduated from Blue Ridge Community College with an Associate's Degree in Business Management.
Prior to joining Farm Credit, Michael served as Operations Manager at First Class Services, and most recently, as Office Manager at Valley Herd Health.
Michael and her husband of 5 years, Timmy, have two young boys, Olin and Andersen. She is most passionate about spending time with family and watching their boys grow.
Michael is excited to be joining the FCV team, and is looking forward to the future. She adds, "I have experienced the dedication and hard work that comes with having our own personal loans through Farm Credit, and I wanted to be part of the family to bring that experience to others."
Katrina Davis, Loan Operations Supervisor, said, "Jesse is a welcome addition to the processing team bringing her customer service experience. She enjoys working to help borrowers get the service they expect from the FCV team. "