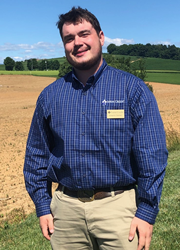 "The Verona team is excited to have Ben join us this summer. We look forward to working with him and gaining knowledge through his perspective on how we can better serve our customers." - Ashlie Howell, Verona Branch Manager
STAUNTON, Va. (PRWEB) June 18, 2019
A native of Page County, Virginia, Baldwin joins the Farm Credit team with a wealth of agricultural expertise, primarily in the beef cattle industry. Baldwin grew up working cattle on his family's commercial beef operation, Stonyman Farms. He gained experience raising cow/calf pairs, backgrounding feeder cattle, and maintaining a feedlot that finished roughly 300 head a year.
Baldwin was also a member of the Page County 4-H Senior Livestock Club from age 9 to 19. During his tenure with the club, he showed market steer projects at the local fair and participated in numerous livestock judging contests.
Currently, Baldwin attends Virginia Tech where he is studying Agribusiness. He is an active member of the Beta Eta Chapter of Alpha Gamma Rho and is the acting president of the Beef Leadership Council. During his time at Virginia Tech, Baldwin has also worked several jobs including processing meat at the campus Meat Lab, assuming landscaping projects, and working for a small beef operation in Christiansburg, Virginia.
In regards to what he is most excited to bring to Farm Credit as an intern, Baldwin replied, "I am excited to bring my passion for agriculture, hard work ethic, and a new perspective to the Farm Credit team."
Howell shared, "The Verona team is excited to have Ben join us this summer. We look forward to working with him and gaining knowledge through his perspective on how we can better serve our customers."