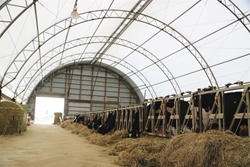 SOUTH WINDSOR, Conn. (PRWEB) November 20, 2018
With Halloween in the rearview mirror, Thanksgiving forthcoming and Christmas fast-approaching, FarmTek is providing savings this holiday season with their Black Friday and Cyber Monday Sales.
The Black Friday Sale will begin Wednesday, November 22nd and last through Friday, November 24th. By using the code FW1870 on http://www.FarmTek.com, customers can save $10 on orders of $75 or more, $25 on orders of $150 or more, $50 on orders of $275 or more and $100 off orders of $500 or more.
To make going back to work after the holiday break a little easier, FarmTek will offer huge savings via the Cyber Monday Sale. To find out more about this sale, like FarmTek on Facebook and the company will announce details over the weekend.
With over 30,000 products on their website, FarmTek helps customers solve their problems and simplifies the management of any business, home or farm. Since 1979, FarmTek has provided the highest-quality products, and the companies National Account Managers are available to help customers find helpful and accurate solutions.
For more information, visit http://www.FarmTek.com or call 800.327.6835 to speak with one of FarmTek's National Account Managers.