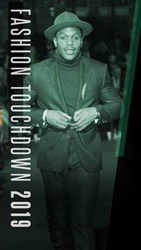 PHILADELPHIA (PRWEB) August 06, 2019
Big Brothers Big Sisters Independence Region and Marrone Law Firm, LLC will be hosting the announcement party for Fashion Touchdown 2019 on August 7, 2019, from 4:30-6:30 PM, featuring many new exciting announcements about this year's event. The Fashion Touchdown 2019 initiative has found a new women's fashion partner in Philadelphia fashion boutique Joan Shepp and the announcement party will take place at the Joan Shepp Luxury Clothing Store located at 1811 Chestnut Street.
As a proud sponsor of previous highly-successful Fashion Touchdown events in 2017 & 2018, Marrone Law Firm, LLC is determined to see this year's fundraising efforts exceed the previous years' totals. All proceeds will benefit Big Brothers Big Sisters (BBBS) Independence to support their efforts in one-to-one youth mentorship.
As one of Philadelphia's most successful fundraisers, Fashion Touchdown 2019 will once again feature members of the World Champion football team the Philadelphia Eagles. Attendees will have the opportunity to see players such as Malcolm Jenkins and Rodney McLeod wearing bespoke menswear designed by Damari Savile (owned by Malcolm Jenkins). As a bonus, their significant others will strut the runway in designers carefully selected by Philadelphia fashion guru, Joan Shepp. Other key details will be announced at the event, including information about new sponsors, players, and event partners.
Over the last 100 years, BBBS Independence has served more than 250,000 mentors and mentees in the region. As a supporter of their efforts, previous Fashion Touchdown event funds have helped the organization serve thousands of children in need of mentorship, including approximately 3,200 in 2018. Despite making a tremendous impact on the lives of these children, there are still over 1,200 children on the waiting list for a mentor. The funds raised from Fashion Touchdown 2019 will be used to assist with this need and provide a direct and positive impact on youth mentorship programs in Greater Philadelphia.
Over the past five years, Fashion Touchdown has experienced huge popularity and large growth in their ability to raise funds for this cause. This is, in large part, due to the support of key event sponsor Joseph M. Marrone of Marrone Law Firm, LLC. In addition to his professional success, Mr. Marrone is a BBBS Independence governing board member and a former Big Brother. His experience with the program was profoundly positive and has led to his Little Brother, even joining him at his law firm. Mr. Marrone understands firsthand how much of an impact can be made through youth mentorship and he is fully committed to furthering the efforts of BBBS, as are other key partners of the event and members of the Philadelphia Eagles.
Fashion Touchdown 2019 will sell out quickly as it has in past years, so be sure to reserve your ticket at Eventbrite through fashiontouchown as soon as possible to attend this hugely popular event.
About Marrone Law Firm:
As one of the most successful and highly regarded civil litigation practices in the Philadelphia area, Marrone Law Firm, LLC provides vigorous, effective representation in matters ranging from personal injury and medical malpractice to civil rights and criminal law. Visit us at http://www.marronelaw.com.
Media Contact:
Brigette Lutz
Marrone Law Firm, LLC
blutz@marronelawfirm.com
215-732-6700
About Big Brothers Big Sisters Independence Region
Big Brothers Big Sisters Independence Region is a donor-supported organization that enriches, encourages, and empowers children to reach their highest potential through safe, one-to-one mentoring relationships. Volunteering as a Big Brother or Big Sister is about making a measurable difference in a child's life by sharing new perspectives and experiences. Serving Chester, Delaware, Montgomery, and Philadelphia Counties in PA and Burlington, Camden and Gloucester Counties in NJ, nearly 4,000 children annually are more successful socially and academically because of the work of Big Brothers Big Sisters Independence Region. Visit us at http://www.independencebigs.org.