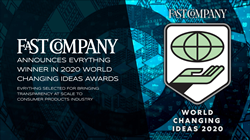 "It is an honor to be recognized by Fast Company for the work we are doing to mobilize data-driven intelligence for products and to change the way brands and consumers interact," said Niall Murphy, CEO and Co-founder of EVRYTHNG.
NEW YORK (PRWEB) April 29, 2020
Fast Company announced the winners of the 2020 World Changing Ideas Awards today, honoring the businesses, policies, projects, and concepts that are actively engaged in empowering business response to the climate crisis, social injustice, and economic inequality. Fast Company selected EVRYTHNG as the winner in the Consumer Products category for its innovation and leadership in making end-to-end transparency possible at scale for the world's consumer products industry.
Consumers are demanding transparency into the sustainability data of how products are made and brought to market, while brands are seeking visibility into the journeys of individual products from production to the consumer to recycling reuse or resale and all the way back to the source materials or components used to make the items. But gathering, aggregating, and sharing this information hasn't been easy or cost-effective.
EVRYTHNG's world-changing idea has solved this problem by giving every physical product item a unique Active Digital Identity™ on the Web, making it possible to gather data across each item's journey from manufacture to consumer and beyond, even as an item passes between many different role players. With every product item connected to the Web, data can be gathered and shared at scale in both reach and economics.
Fast Company World Changing Ideas Awards
Now in its fourth year, the Fast Company World Changing Ideas Awards showcase 26 winners, more than 200 finalists, and more than 500 honorable mentions. Health and Wellness, Corporate Social Responsibility, and AI and Data are among the most popular categories. A panel of eminent judges selected winners and finalists from a pool of more than 3,000 entries across transportation, education, food, politics, technology, and more. The 2020 awards feature entries from across the globe, from Vancouver to Singapore to Tel Aviv.
Illustrating how some of the world's most inventive entrepreneurs and companies are addressing global challenges, Fast Company's May/June issue celebrates, among others, an electric engine for airplanes that eliminates emissions from flights; a solar-powered refrigerator for remote villages; an online marketplace fighting food waste by connecting food companies with farms to buy ugly and surplus produce; and an initiative to offset all of the carbon costs of shipping, creating a new model for e-commerce sustainability.
"It is an honor to be recognized by Fast Company for the work we are doing to mobilize data-driven intelligence for products and to change the way brands and consumers interact," said Niall Murphy, CEO and Co-founder of EVRYTHNG. "Transparency and sustainability are table stakes for consumer-brand relationships now more than ever. By connecting every consumer product to the Web we're able to bring visibility to the journeys of trillions of consumer items from manufacture to the consumer and beyond. We're helping brands drive their businesses in new ways with data intelligence gathered through their products."
"There seems no better time to recognize organizations that are using their ingenuity, resources, and, in some cases, their scale to tackle society's biggest problems," says Stephanie Mehta, editor-in-chief of Fast Company. "Our journalists, under the leadership of senior editor Morgan Clendaniel, have uncovered some of the smartest and most inspiring projects of the year."
About the World Changing Ideas Awards: World Changing Ideas is one of Fast Company's major annual awards programs and is focused on social good, seeking to elevate finished products and brave concepts that make the world better. A panel of judges from across sectors choose winners, finalists, and honorable mentions based on feasibility and the potential for impact. With a goal of awarding ingenuity and fostering innovation, Fast Company draws attention to ideas with great potential and helps them expand their reach to inspire more people to start working on solving the problems that affect us all.
About EVRYTHNG
EVRYTHNG helps consumer product brands operate with data-driven intelligence through the digitization of their products and the data they generate. The EVRYTHNG Product Cloud manages an Active Digital Identity™ for each product item, gathering and applying data from and about each item from sourcing to manufacturing to the consumer to recycling or reuse. Global consumer brands in apparel, beauty, CPG, and wine & spirits work with EVRYTHNG to manage billions of digitized product items, gaining visibility across their supply chains, providing transparency and traceability, and connecting directly with their customers through their products. EVRYTHNG has been named a Technology Pioneer by the World Economic Forum, originated the technology driving the GS1 Digital Link global barcode upgrade, and was recently identified as one of the 50 most disruptive companies in the UK. Learn more at https://evrythng.com and @EVRYTHNG.