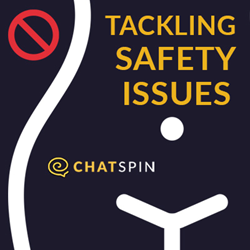 "...we can promise a continuous effort, utilizing advanced technology, to try to maximize safety for our users."
LOS ANGELES (PRWEB) June 04, 2019
Random video chat apps for meeting new friends and dating remain hugely popular, but this social media sector has also attracted unsavory people engaging in inappropriate or even illegal behavior. Fast-growing free random video chat app Chatspin, a relatively new entrant to the market (founded in 2015), has been vigorously tackling safety issues, as its surveys find interesting new market data.
Chatspin this month is implementing groundbreaking AI face detection technology that automatically scans live video streams and instantly blurs a broadcast if no face appears – thus, along with other safeguards, fully blocking nudity. This feature – an industry first -- will now make it much easier to find connections on Chatspin without being exposed to inappropriate behavior.
Surpassing the one million users milestone this year, Chatspin also became the first video chat platform to offer AR face filters specifically for the web, previously only offered in video chat apps. It has also become the only random video chat platform available in both app stores (Google Play and Apple App Store) and on the web.
"Safety Not Just Goal but Passion"; Harnessing Machine Learning Technology
Chatspin's CEO and Co-Founder Richard Fox stresses the importance of safety for Chatspin users and the company alike. "We can never, ever guarantee safety in the online social media world; bad people may always find their way in, just as they can in the offline social world, at a bar or at a concert. But we can promise a continuous effort, utilizing advanced technology, to try to maximize safety for our users."
Chatspin, even before its latest new safety innovation, was employing cutting-edge machine learning software to ban more than one million users for inappropriate nudity in the first few months of the year. Rolled out across all versions of Chatspin's video chat application, the machine learning software detects instances of nudity from any user on the chat platform. Developed by feeding the software clips of nudity previously found on the video chat app, it has so far proved to be 99.5% accurate – a higher strike-rate than that of human moderators.
The number of users banned for inappropriate behavior since the implementation of the machine learning software reached record levels, according to Chatspin. As the software continues to learn, Chatspin expects it to become even more accurate and efficient in identifying cases of nudity on the app.
Of the Chatspin users banned so far, 92 percent have been male, four percent female, and four percent couples or groups. The average amount of time that a user has been on the platform prior to being flagged for nudity has also decreased by 150 percent since the software was rolled out.
To further help foster security among its users, Chatspin does not require any personal details from users to use the video chat platform. And its newly introduced AR face filters allow a user to apply effects in real-time that hide some or all of their face while chatting.
"For users to have the right kind of experiences, we need to try our best to keep out the wrong kind or people," stresses Fox. "This is not just a goal of ours, but a passion, because we're users too."
A Favorite Haunt for Introverts
Chatspin also reveals that its app appears to be a favorite haunt for introverts. Fox says that "the nature of the platform – allowing users to meet people randomly for short periods of time – suits the personality of introverted people who at times find it difficult to cope with the pressures of maintaining friendships on other social networks such as Facebook."
Of those users who described themselves as an introvert in a Chatspin survey, 62 percent said that they prefer using random chat platforms over other social media outlets. Just 21 percent said they prefer other social media platforms, while 13 percent said both and 4 percent said neither.
An NPD study found that that more than half of all millennials use real-time video capabilities on their smartphones. The same study also revealed that video chatting is the third most popular activity undertaken by people aged between 18 and 34.
About Chatspin
Chatspin is a free random video chat app which is available on Google Play, Apple App Store, and web browsers. The chat platform allows users to develop new friendships and relationships with people worldwide using a webcam and an internet connection. Users can enjoy features including cam filters and effects, gender filters, country filters, an intuitive and straightforward interface, and control over audio and visual settings. The service simultaneously connects tens of thousands of people randomly every day.