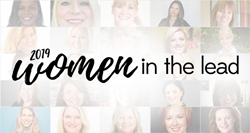 We still have a long way to go in leveling the playing field, but the restaurant industry is starting to recognize how important female leadership is to its growth and success.
LOUISVILLE, Ky. (PRWEB) March 08, 2019
To celebrate International Women's Day on March 8, FastCasual.com has released its third annual "Women in the Lead" series featuring interviews with 27 of the restaurant industry's most innovative and successful female leaders.
Part 1 of the "Women in the Lead" series includes interviews with these executives:

Jackie Lobdell, Executive Director of Franchise Development, Slim Chickens
Kristi Kingery, SVP of Supply Chain & Quality Assurance, Tropical Smoothie Cafe
Michelle Bythewood, President, Salata Salad Kitchen
Ursula Lane, Senior Manager of Franchise Recruitment, Checkers & Rally's
Lauren Gruel, VP of Marketing, Slapfish
Gwen Graham, President, Miller's Roast Beef
Andrea Allen, Chief Accounting and Administrative Officer, Rave Restaurant Group
Diana Holley, VP of Marketing, Willy's Mexicana Grill
Donna Josephson, SVP and CMO, Corner Bakery Cafe
Dennie Laney, VP of Training & People Development, Mooyah Burgers, Fries & Shakes
Ali Rauch, Director of Marketing, Chicken Salad Chick
Jodie Conrad, VP of Marketing, Fazoli's
Rachel Phillips-Luther, Founder and CMO, Up Inspired Kitchen
Christina Coy, VP of Marketing, Pie Five Pizza
Part 2 of the series will be published on Tuesday and feature these executives:
Dawn Nielsen, COO, Kolache Factory
Vanessa Duffy, Digital Marketing Manager, Dog Haus
Christina Bourg, SVP of Marketing, Rotolo's Pizzeria & Rotolo's Craft & Crust
Alexandria Atwell , Director of Marketing, Salata Salad Kitchen
Amanda Powell, Director of Operations & Training, Coolgreens
Hala Habal, VP of Corporate Communications, Which Wich
Robin Gittrich, VP of Human Resources, Toppers Pizza
Cheryl Fletcher, SVP of Franchise Development, Tropical Smoothie Cafe
Liz Worley, Director of Marketing, Teriyaki Madness
Joni Hay-Smith, Brand Manager, Pita Pit
Janene Holig, Founding Chef, Hot Indian
Shelley Wolford, SVP of Communications & Strategy, Golden Corral Corporation
April Dennis, Chief Brand Officer, Hwy 55 Burgers
"This is the third year we've published this series and I'm happy to say it is much easier to find women in leadership roles to feature," said Cherryh Cansler, Vice President of Networld Media Group, the company that publishes FastCasual.com. "We still have a long way to go in leveling the playing field, but the restaurant industry is starting to recognize how important female leadership is to its growth and success."
Read Part 1 of "Women in the Lead" here.
About Networld Media Group
Founded in 2000, Networld Media Group is a leading business-to-business (B2B) global media communications company specializing in digital media, associations and events in the mobile, self-service, digital signage, retail, food service and financial services industries. Online properties include ATMmarketplace.com, BlockchainTechNews.com, DigitalSignageToday.com, FastCasual.com, FoodTruckOperator.com, KioskMarketplace.com, MobilePaymentsToday.com, PizzaMarketplace.com, QSRweb.com, RetailCustomerExperience.com and BiblicalLeadership.com. Networld event properties include the Fast Casual Executive Summit, CONNECT: The Mobile CX Summit, Interactive Customer Experience Summit, Bank Customer Experience Summit and the Restaurant Franchising & Innovation Summit. Networld also operates the ICX Association. BOOM! Creative, provides clients with digital creative, custom media and brand collateral. Its newest offering, World of Money, is a daily e-newsletter that provides a fun and informative look at the trends, technologies, and ideas shaping the future of money and payments.