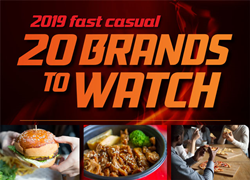 LOUISVILLE, Ky. (PRWEB) December 19, 2018
The fast casual industry is known for innovating everything from menus and the customer experience to decor and ambiance. The rest of the restaurant industry looks to fast casuals to see the latest and greatest, and those unique innovations often come from smaller, emerging brands. And it's one reason FastCasual decided to recognize up-and-coming concepts in our first annual "20 Fast Casual Brands to Watch in 2019" report.
Not to be confused with our annual Fast Casual Top 100 Movers and Shakers, this list reveals 20 of the year's most newsworthy smaller and newer concepts that we think could have the potential to emerge as industry leaders. The report also discusses how their ideas and offerings are disrupting the entire restaurant and retail segments. This is by no means an exhaustive list as we know there are new and exciting concepts popping up all the time.
What it is, however, is a compilation of several up-and-coming brands that caught our attention over the past year. Although each brand on the list is unique, they share one commonality — innovation — whether it comes in the form of a hybrid service model, outlandish menu offering or a funky atmosphere. We are excited to see these brands flourish. Download the report here.
About Networld Media Group
Founded in 2000, Networld Media Group is a leading business-to-business (B2B) global media communications company specializing in digital media, associations and events in the mobile, self-service, digital signage, retail, food service and financial services industries. Online properties include ATMmarketplace.com, BlockchainTechNews.com, DigitalSignageToday.com, FastCasual.com, FoodTruckOperator.com, KioskMarketplace.com, MobilePaymentsToday.com, PizzaMarketplace.com, QSRweb.com, RetailCustomerExperience.com and BiblicalLeadership.com. Networld event properties include the Fast Casual Executive Summit, CONNECT: The Mobile CX Summit, Interactive Customer Experience Summit, Bank Customer Experience Summit and the Restaurant Franchising & Innovation Summit. Networld also operates the ICX Association. BOOM! Creative, provides clients with digital creative, custom media and brand collateral. Its newest offering, World of Money, is a daily e-newsletter that provides a fun and informative look at the trends, technologies, and ideas shaping the future of money and payments.