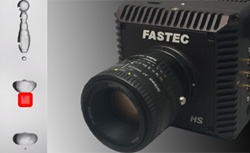 According to Tom Boldt, Director of Sales for Fastec Imaging, "doing a frame-by-frame analysis, it could, for example, be set to trigger on fast moving objects such as the strike of a rattlesnake and ignore the slower movements of the prey."
SAN DIEGO (PRWEB) April 15, 2021
Fastec Imaging, a global supplier of high-speed cameras for scientific and industrial applications is adding an intelligent image-based triggering feature to its HS series cameras. The triggering system is designed to aid the investigator in precisely capturing only desired high-speed events, thus saving the time and expense of storing and analyzing extraneous footage.
High-speed cameras record thousands of images per second, producing slow-motion video for analysis of events happening too quickly for human perception. At such high frame rates, the cameras produce massive amounts of image data in little time. For the industrial engineer troubleshooting machinery, or a laboratory scientist gathering experimental data, sifting through an enormous quantity of video in search of an elusive event is a time-consuming and expensive needle-in-a-haystack proposition.
If an event is predictable or precisely controlled, conventional triggers can be used to limit the number of images recorded. Fastec cameras have many strategies for triggering event captures, including timed triggering, signals from PLCs or PCs or other hardware, software triggers, and even a trigger button right on the camera.
When events are unpredictable, an image trigger can be used to initiate a capture using the images being recorded to decide when to start. Fastec has long supported a software image trigger that is capable of triggering on changes seen in a user-selected portion of the scene being filmed. "What is new," according to Tom Boldt, Director of Sales for Fastec Imaging, "is that FasTrigger, our second-generation image trigger, is implemented in hardware so it is much faster and smarter than before. By doing a frame-by-frame analysis, it could, for example, be set to trigger on fast moving objects such as the strike of a rattlesnake and ignore the slower movements of the prey."
According to Charles Mrdjenovich, President of Fastec, "while FasTrigger is a powerful productivity tool in its own right, it really comes into its own when paired with custom applications hosted on our controller or real-time image analysis implemented in the camera's FPGA".
FasTrigger is only available on Fastec's HS series cameras. The first-generation software image trigger is available on Fastec's IL and TS series cameras.