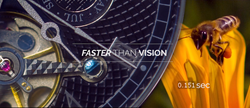 "The fundamental focus of the new site," according to Tim Brandt, product manager for Fastec Imaging, "is to provide resources for those looking for high speed camera solutions as well as those already using high speed cameras."
SAN DIEGO (PRWEB) October 09, 2018
The new site promotes an application-based approach which enables engineers, scientists and others looking for high-speed imaging solutions to easily match their application needs with the best products available.
Slow motion video is used throughout the site to exemplify the myriad applications for which Fastec high-speed cameras are often utilized. On the home page, normal speed footage of a watch and mainspring is contrasted with a "slow-mo" version of the same, along with footage of a honey bee to demonstrate the relationship between what we humans see vs. what is seen with the aid of a high-speed camera.
"The fundamental focus of the new site," according to Tim Brandt, product manager for Fastec Imaging, "is to provide resources for those looking for high speed camera solutions as well as those already using high speed cameras." To that end, the new Fastec site offers a guide "High-Speed Cameras and Slow-Motion Video Terms and Concepts," as well as application articles, blog posts, and tutorials. There is even a Camera Calculator Application for smartphones and tablets, that enables the user to establish frame rates, resolutions, lens requirements, depth of field, and illumination.
The site divides Fastec's market space into four general application categories:

Manufacturing, which includes machine design and test applications, paper and converted paper applications, and bottling and packaging applications, which include food, beverage, and pharmaceutical.
Life in Motion, which includes scientific, sports, and even artistic applications, from animal behavior and kinematics, to human performance and sports equipment tuning.
Engineering and Science, which includes microscopy applications such as microfluidics, robotics applications, fluid dynamics, and materials testing including Digital Image Correlation.
Mining and Blasting, for which the handheld "Blaster's Ranger" series is offered through Fastec's partner MREL
Fastec Imaging is a U.S. manufacturer and global supplier of digital high-speed imaging systems based in San Diego, CA. The company specializes in uniquely portable and affordable high-speed camera systems, including handheld, point-and-shoot systems, compact PC-controlled cameras, and long duration record systems. Fastec cameras are used in many applications, including engineering, industrial manufacturing, packaging, medical and academic research, microfluidics, biomechanics, military range testing, sports performance, and broadcast entertainment. For additional information regarding Fastec Imaging, please visit fastecimaging.com.