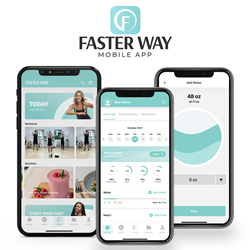 "We have helped 215,000 people get well, find energy and fulfill their purpose by following our cutting-edge fitness and nutrition strategies. Now, we're making it even easier to chase good health by putting all of our resources in one convenient app."
CLEARWATER, Fla. (PRWEB) November 03, 2021
FASTer Way to Fat Loss®, the premier health, fitness, and weight loss program on the market, has launched a newly designed app for customers that will enhance its six-week online bootcamp program with customized macros, food logs, recipes, workouts and more all at your fingertips.
"We have helped 215,000 people get well, find energy and fulfill their purpose by following our cutting-edge fitness and nutrition strategies. Now, we're making it even easier to chase good health by putting all of our resources in one convenient app," said FASTer Way to Fat Loss founder and program creator, Amanda Tress.
The new app eliminates the need for customers to sync information from other data tracking sites. Instead, the FASTer Way to Fat Loss app upgrade now has all-in-one features such as:

An exclusive macro calculator to track carbohydrate, protein and fat along with calories, fiber and micronutrients
A food log with weekly meal guides and recipes
A FASTer Way to Fat Loss verified food database with easy search function
A timer for intermittent fasting reminders
A calculator to track daily water intake
A workout library with 30-minute daily workouts
A digital studio with bonus workouts including HIIT, Strength, Kettlebell, Cycling, Abs and Travel Workouts
"We know life is hectic, and balancing work and home can leave little space for investing in ourselves. There isn't time to log in to different apps and websites to track health goals and set new ones, and we hope these updates to the FASTer Way to Fat Loss app provide a quick and easy way for both women and men to take control of their health," said Tress.
The FASTer Way to Fat Loss combines key scientific nutrition and exercise strategies that provide wellness benefits such as balanced blood sugar and hormone levels, decreased inflammation and better overall health to help fight disease.
In addition to carbohydrate cycling, intermittent fasting and macronutrient tracking, the FASTer Way incorporates strategic workouts that maximize the effects of a well-paired nutrition plan.
Once customers complete the six-week online program, they transition to the VIP Membership and gain access to additional features in the app, plus opportunities to work 1:1 with a team of wellness professionals, including FASTer Way Head Trainers and Health Coaches.
The FASTer Way to Fat Loss app is available now for iPhones and Androids and can be downloaded in the online stores where apps are purchased for your device.
For more details about the program, go to fasterwaytofatloss.com. For media inquiries only, contact Lindsey Murray, lindsey@fasterwaytofatloss.com.
About FASTer Way to Fat Loss
The nationwide premier health and fitness program was created in 2016 by wife, mom and entrepreneur Amanda Tress. Starting with just 11 participants in the first six-week online bootcamp, the program has now served over 215,000 clients through key nutrition and workout strategies including carb cycling, intermittent fasting and macro tracking, and also offers a certification program for coaches. FASTer Way to Fat Loss© has been named one of the fastest growing in Tampa Bay, Florida, by the Tampa Bay Business Journal and is ranked on the Inc. 5000 list. The program has also been featured in national publications such as Forbes, USA Today, bon appetit and iHeart Radio.
About Amanda Tress
Amanda Tress is a wife, mother, motivational speaker and founder and creator of the FASTer Way to Fat Loss program. She's a certified nutrition coach, strength and conditioning coach, and personal trainer. During her time in the gym, Amanda saw the frustration clients experienced when they did all the right things but didn't see the changes they wanted. That's when she went to work fine-tuning her cutting-edge nutrition and workout strategies to create the FASTer Way to Fat Loss©. The program has now helped over 215,000 people transform their lives through better health and wellbeing.