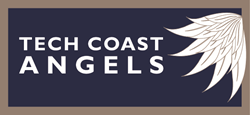 IRVINE, Calif. (PRWEB) April 13, 2017
Entrepreneurs and investors converged at the Segerstrom Samueli Theater in Costa Mesa, California on March 8 as Tech Coast Angels' (TCA) Orange County Chapter hosted its gala event to share in "A Celebration of Entrepreneurship." Attendees enjoyed networking, entertainment, food and the angel network's renowned Fast Pitch competition. Twelve entrepreneurs, selected from over 180 applicants, gave a 60-second Fast Pitch in front of judges and an audience, in hopes of garnering the $25,000 investment prize.
All applicants of the Fast Pitch contest attended at least one of the five coaching sessions prior to the competition, provided free of charge by TCA, and were able to craft and develop their very own 60-second pitch.
The twelve finalist companies selected for this year's Fast Pitch, based on their performance in the coaching sessions, were:

AirDrop – a mobile app that helps people get to the airport on time, every time;
Boxton – a logistics company that helps save companies 30% international bulk shipping;
Convert Coal, Inc. – cleans dirty coal by extracting pollutants and crude oil before it is burned;
D&P Bioinnovations – provides off-the-shelf implants to regenerate a damaged esophagus;
FunBand Inc. – creator of funLoop, a kid tracker for amusement parks;
Librede, Inc. – a synthetic biology company using yeast to produce cannabinoids;
Party on Demand – a mobile app that allows users to plan a full party in less than an hour;
Syntr Health Technologies – medical device company that uses diabetic patients' regenerative stem cells to solve foot ulcers;
Tot Squad – car seat cleaning and installation for parents, rideshare companies and rental car agencies; and
Veriskin, Inc. – medical device company developing a hand-held device for non-invasive skin cancer screening
Attendees enjoyed hors d'oeuvres and champagne upon arrival and while networking; Grant Van Cleve, Tech Coast Angels' Chapter President, gave the opening speech; and John Harbison, TCA's Chairman Emeritus, presented "Successes of the Tech Coast Angels Portfolio."
Then it was time for Don Kasle, TCA Chairman Emeritus, to emcee the competition. Eleven judges (investors, sponsors and industry experts) judged the entrepreneurs. Winners of the Fast Pitch, and prizes received, were:
Best Overall: Party on Demand received the $25,000 investment prize and an interview with EyeOnBusiness. Party on Demand is a mobile app that makes planning life's celebrations simple and easy by allowing its users to order a full party complete with decor, food/drinks, hardware & entertainment in one hour or less. For a video of Party On Demand's winning Fast Pitch, please visit https://www.youtube.com/watch?v=fmWmBGcHCno&feature=youtu.be.
"We couldn't possibly be more honored to win the Audience Favorite and Best Company Overall awards at this amazing event. We believe this honor further validates Party On Demand as the next big idea in the exploding on-demand marketplace. Just as Uber brings transportation to your driveway and DoorDash drops off meals at your doorstep, Party On Demand delivers a full suite of party essentials to the location of your choice to ensure you have the celebration of a lifetime." - Willie "G.", CEO of Party On Demand.

Best Presentation: FunBand received corporate legal services from Pivotal Law. FunBand Inc. is the maker of a kid tracker called funLoop that is used to help parents keep track of their kids in amusement parks using a proprietary network.
"Winning Best Presentation at the Tech Coast Angels Fast Pitch Competition has accelerated FunBand's progress immensely. This competition is an important platform for startups in Southern California. The preparation and coaching during the competition was invaluable. Following the event, the introductions and exposure our company received have opened important doors and propelled us forward. We thank Orange County Tech Coast Angels for hosting this opportunity and strongly encourage startups to participate in next year's competition." - Rehema Feleke, MD MBA, Co-founder and CEO of FunBand Inc.

Most Fundable: Tot Squad received Intellectual Property legal services from Nguyen & Tarbet. The company is disrupting the $10B baby industry by offering car seat cleaning and installation for parents, rideshare companies, and rental car agencies on its quest to become the Geek Squad for baby gear services.
"The Tech Cost Angels Fast Pitch competition was an amazing experience - it forced me to take my elevator pitch to a new level and I won "Most Fundable!" The event was a gateway to meeting many potential investors and we are thrilled with the prize - legal services that we are already taking advantage of. I highly recommend all entrepreneurs take the time to try out, the coaching is invaluable!" - Jennifer Beall Saxton, Founder and CEO, Tot Squad.

Party on Demand was also voted as the Audience Favorite award, and received one year of office space and parking by Real Office Centers.
A new category for the most diligent and promising entrepreneur, The Angel Wings Award, was given to Immersive Entertainment, Inc., an Irvine-based company that is creating virtual reality experiences through artificial intelligence.
All of the 2017 Fast Pitch winners also received a fast-tracked invitation for a Tech Coast Angels screening. To learn more about future Tech Coast Angels' Fast Pitch competitions, or how to apply for 2018's event, please visit techcoastangelscelebration.com.
About Tech Coast Angels:
Tech Coast Angels (TCA) is one of the largest and most active angel investor networks in the nation, and a leading source of funding for seed-stage and early-stage companies across all industries in Southern California. TCA members are accredited investors who individually invest in startup companies, and as a group, TCA has invested up to $6M in a single company. The companies TCA invest in go through well-structured, transparent, and time efficient screening and due diligence. TCA members are themselves founders and executive level business leaders who have extensive knowledge in the investment process and world-class business practices. TCA members thus provide companies with more than just capital; they also contribute counsel, mentoring and access to an extensive network of investors, customers, strategic partners and management.
TCA is a catalyst in the growth of the thriving Southern California entrepreneurial ecosystem of innovation, funding mostly emerging technologies and life science companies. The most recent Halo Report rated TCA as #2 nationally in a number of funded deals. A recent analysis by CB Insights ranked TCA #1 out of 370 angel groups on "Network Centrality" and #5 overall in "Investor Mosaic." Since its founding in 1997, TCA has invested over $190 million in more than 330 companies and has helped attract more than $1.5 billion in additional capital/follow-on rounds, mostly from venture capital firms. For more information, please visit http://www.techcoastangels.com.