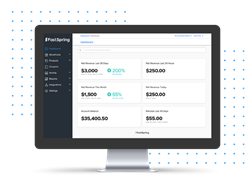 "The FastSpring platform is incredibly robust, so we used the feedback from our customers to help us focus our efforts on areas of the app that will be most impactful while delivering a more modern and intuitive experience."
SANTA BARBARA, Calif. (PRWEB) May 07, 2020
FastSpring, the leading full-service ecommerce partner for software companies, today announced the release of a new and improved user interface for the FastSpring platform.
The new interface and user experience is a result of FastSpring's continued commitment to delivering a robust full-service ecommerce platform for companies selling software, SaaS, and digital products. The FastSpring Product and UX teams conducted extensive customer surveys and market research to better understand the evolving needs of software providers in the global ecommerce landscape. These findings drove the strategy for the platform enhancements being rolled out today, with a key focus on increased customer efficiency, performance, and satisfaction.
In addition to delivering a more modern look and feel, the company also created:

A new vertical left-hand navigation bar for increased usability.
Improved product catalog layout and navigation that allows sellers to easily search and filter their product libraries.
More intuitive product configuration menus to save customers' time when setting up new products.
New Activities, Order Details, and Subscription overview pages to help sellers accomplish tasks faster.
Updated colors, fonts, and styling that provide a clean modern look to the interface.
"This is a major step forward for FastSpring," said Kurt Smith, VP of Product and Strategy. "Our ultimate goal is to help our customers grow faster, and this release brings the full potential of FastSpring into a more intuitive, easy-to-use platform. We used the feedback from our customers to help us focus our efforts on areas of the app that would be most impactful in saving time and being more productive while delivering a more modern look and feel. Today, we're excited to get this release into our customers' hands and even more excited for what's to come."
About FastSpring
FastSpring is the trusted ecommerce partner for companies that sell software around the world. Companies using FastSpring's full-service ecommerce solution sell more, stay lean, and compete big. Founded in 2005, FastSpring is a privately owned company headquartered in Santa Barbara with an office in Amsterdam. For more information, please visit https://www.fastspring.com.