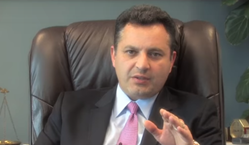 Remaining calm and aware while driving is the best and only way to minimize the chances of a wreck.
LOS ANGELES (PRWEB) February 27, 2020
A February 2 article on NBC San Diego reports on a fatal collision between a vehicle and a pedestrian near College Avenue on SR-94. It remains unclear why the male pedestrian was on the highway or if he was under the influence of drugs or alcohol, but it was determined that the female driver of the vehicle was not affected by any substances. Los Angeles-based personal injury firm Legal Defenders at the Law Offices of Burg & Brock says that while it's not known whether or not the driver is legally at-fault or could have done anything to prevent the collision, it would obviously have been better if she had been able to stop or slow down enough to avoid the fatality. Being extremely aware of the road is the way to guard against these kinds of unexpected occurrences.
Legal Defenders notes that even the best drivers on the road are at the mercy of others who may not share the same level of skill or awareness and it only takes a single miscalculation to cause a potentially deadly or disabling collision. As such, the firm says that all drivers should remain alert at all times, even when the roads would normally be nearly empty since a dangerous situation can arise at literally any moment.
The personal injury firm notes that the forces involved in vehicle collisions are even more terrifying than most people assume. Many might imagine that only severe accidents involving a large amount of force can cause injuries, but collisions that might appear relatively minor have also been known to cause injuries and death, the firm adds. Legal Defenders notes that, regardless of whether anyone is actually hurt in an accident, the guilty party will likely still be responsible for repairs and property damage – something that is almost certainly going to cost hundreds, if not thousands of dollars for the at-fault driver. Having to also pay for medical bills or worse, the firm continues, are very real possibilities as well and can present life-changing financial burdens. Of course, most states now legally require carrying insurance but, at best, a significant increase in the cost of insurance is likely. Moreover, getting enough points on a driver's record can make insurance prohibitively expensive or cause the suspension of a license. Legal Defenders warns that it has worked on a countless number of cases where guilty parties have had to dispense incredible sums in terms of insurance costs and fine because of a few, unassuming moments of careless decisions that led to severe collisions.
Legal Defenders says that remaining calm and aware while driving is the best and only way to minimize the chances of a wreck. Listening to music or a favorite podcast can ease the frustrations of a long commute, but the firm also warns of using any devices while driving, as this can present a very dangerous distraction. Nevertheless, driving safely really is the only choice motorists have.
Readers in need of a personal injury attorney can find more information on Legal Defenders at the Law Offices of Burg & Brock by calling 818-641-1266 or by visiting their website at https://www.legaldefenders.com.