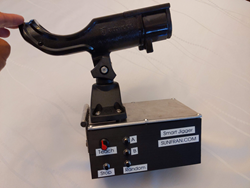 "The device is very interesting, and has a lot of potential. I think it could be used for trolling as well as jigging. I could see it being useful while jigging for mackinaw, kokanee, river salmon, shad, and stripers.", says Jack Naves, a well-known angler and author at bassjack.com
FREMONT, Calif. (PRWEB) July 30, 2020
Sunfran.com is proud to announce a revolutionary fish-catching device, the Smart Jigger, which jigs automatically and mimics the angler's presentation.
Invented by a father (Ray Zhu) and son (Kevin Zhu) team, the Smart Jigger is a fishing device that not only has caught a lot of fish, but is also the first of its kind seen in action catching fish on video. From the heart of Silicon Valley, the physics Ph.D. father Ray and high schooler son Kevin were able to pack intelligence into a small box capable of learning and executing commands. While other devices may have factory designed motions that only work in specific scenarios, rarely seen catching a fish. This device can be taught motions by the user and works in a variety of environments, and it has been very successful in catching fish. The potential is only limited by the user's imagination. With an intuitive knob that controls the angle and speed, you can create and teach your own jigging moves that the device will repeat for as long as you want. Videos of the device in action can be seen at sunfran.com/videos
The patent-pending device can be very helpful for many people. Newer anglers who don't have "secret spots" and complain "I can't catch a fish"; Elderly and disabled who still wish to see a fish strike, but no longer have the physical strength of the past; Grandparents and parents taking the kids fishing; Fishing guide taking novice clients out on trips. The list goes on.
"To me, fishing is like science research. The passion in research pushes me to think of new ways to find and catch fish, and the Smart Jigger is one product in that pursuit," said Mr. Ray Zhu. "I love fishing, but I am still new to the game. Fishing can be extremely slow some days. Having a Smart Jigger device that can fish alongside myself while I still do my own casting and jigging increases my chances of catching a fish. The first catch of the day always brings joy. During testing, the device has occasionally out-fished myself, and I am sure there are a lot of people who can use some help like that."
"I think it's a pretty cool idea especially for elderly people and kids on board… [The Smart Jigger] could also be used for a variety of species. Salmon jigging can be monotonous, and the machine is tireless," says Dave Hurley of the Hurley Chronicles (hurleychronicles.com), publisher of Northern California's premier fishing report - The Hot Sheet.
Jack Naves, a well-known angler in Northern California and author at bassjack.com, says that "the device is very interesting, and has a lot of potential. I think it could be used for trolling as well as jigging. I could see it being useful while jigging for mackinaw, kokanee, river salmon, shad, and stripers."
The product is currently undergoing development and is projected to be released to the public in the next few months. Anybody interested can sign up for updates to qualify for our introductory prices at sunfran.com.
About Sunfran.com
Sunfran.com is the innovator in fishing devices. The Smart Jigger features patents-pending technology that brings ease of use and practicality of an automatic jigging device to all anglers.
For additional information, please visit https://www.sunfran.com or contact info@sunfran.com