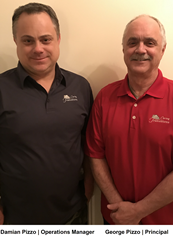 Caring Transitions is different because we know helping older adults relocate isn't just about space planning and packing boxes. We understand that these are people's lives and the possessions we are dealing with aren't just things. - Damian Pizzo
WARREN, N.J. (PRWEB) June 10, 2020
Father and Son team George and Damian Pizzo are pleased to announce the launch of their new business – Caring Transitions of Somerset County.
This senior-focused relocation and estate-clearing company serves Bridgewater, Basking Ridge, Far Hills, Somerville and the surrounding areas. Caring Transitions' specially-trained professionals handle decluttering, organizing, packing, moving, resettling, in-home estate sales and online auctions, estate clearing and preparing homes for market.
"Almost everyone has had a personal experience with trying to help a loved one – grandparent, parent, neighbor or friend – relocate, downsize or clear out a home and it can be a nightmare. At Caring Transitions, we can provide a multitude of services, which allows us to be a total solution. Let us take that work off your plate and that stress of your shoulders to make the transition you are facing as easy as possible," George said.
Caring Transitions' services are perfect for managing the many aspects of a senior move, including assisting with the process of downsizing to provide a safer living situation, as well as for busy families and people clearing out the home of a loved one who has moved into assisted care or passed away. All of Caring Transitions' services are customizable, so clients choose the solution that best fits their needs.
"Caring Transitions is different because we know helping older adults relocate isn't just about space planning and packing boxes. We understand that these are people's lives and the possessions we are dealing with aren't just things. We want to understand your individual situation so we can work together to help you meet your goals. We know this process is difficult and we are here to help," Damian said.
George and Damian are long-time Somerset County residents. George graduated from Seton Hall University and is a founding member and board member of New Jersey's first Public Recovery High School. Damian graduated from the University of Scranton and has been working in Information Technology, but has always had an entrepreneurial spirit. George and Damian were thinking about opening a business together – and had explored quite a few opportunities – when George's neighbor had to relocate.
"The widow who lived next door fell and she went through the entire process of relocating to an independent living facility. During that transition, I saw a van in her driveway almost every day for another company who does some of the work that Caring Transitions can do. The more I learned about it, the more I thought it was a great idea and a wonderful service, which is what brought us to Caring Transitions. Caring Transitions brings world-class professionalism, services and support to franchisees around the country and we're excited to be part of that national team," George said.
Caring Transitions of Somerset County is bonded and insured and all employees are CRTS trained and background checked. For additional information, call 908-736-4481, email GPizzo@CaringTransitions.com or visit http://www.caringtransitionswsc.com/.