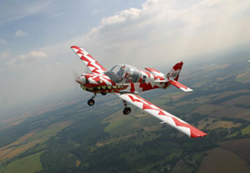 (PRWEB UK) 12 June 2014
Flydays.co.uk has launched a new flying lesson package specifically for Father's Day. This is a full experience package perfect for spoiling Dad this Father's Day. Father's Day is one of those occasions where most people struggle to decide what to get Dad. Presents need to be memorable and something Dad will really enjoy. Rushing out to buy nose trimmers, anything USB with flashy lights and the ubiquitous Father's Day socks may not necessarily be the best solution though.
Why not get Dad an experience which appeases the young immature side of Dad and let him fly a plane through the skies or even fly a stunt plane (not for the faint hearted!). Ditch the idea's of ties (Dad doesn't really like them), Father's Day is the time to buy something Dad would never get himself, something fun and exciting! Flydays.co.uk have declared war on boring Father's Day presents and have a fantastic arsenal to wage this war.
Flydays.co.uk's new Father Day Packages on the special offers page covered all the bases for those looking for an exciting experience for dad this year.
Flydays.co.uk has a numerous experiences such as helicopter lessons, Flying Lessons, Hot Air Ballooning, Skydiving and paragliding experience's.
Check out the FlyDays.co.uk special offer page to see all of these offers.