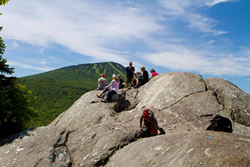 The combination of hiking on the Appalachian Trail and Long Trail in the morning and partaking in fitness classes and massages in the afternoon is formula many men love
Killington, Vermont (PRWEB) May 28, 2015
New Life Hiking Spa in Mendon/Killington, Vermont, is offering a Father's Day Vacation Getaway for men and their guest. The special is based on double occupancy and includes a private room with two queen beds, three meals a day, healthy snacks, daily guided hikes, all fitness classes, yoga classes, cooking demos, evening activities and one massage for each guest. Guests must check in on Thursday, June 18th and check out on Monday, June 22nd. The rate per person will be offered at a $200 savings and is $195 per person, per night.
Founded by Jimmy LeSage, M.S., in 1978, New Life Hiking Spa has become one of North America's most recognized spa vacations and one of the top rated spas for men in the world. "The combination of hiking on the Appalachian Trail and Long Trail in the morning and partaking in fitness classes and massages in the afternoon is formula many men love", stated Mr. LeSage.
SpaFinder Wellness, which is the world's largest resource for the spa industry, has selected New Life Hiking Spa as one of the 25 Pioneer Spas which have shaped the spa industry as we know it today. New Life has been consistently picked as one of the top ten spas in the world by SpaFinder's Reader's Choice Awards for hiking, men, solo travel, weight loss, and affordability.
New Life Hiking Spa is open in Vermont each spring through fall season and approximately 700 guests from all over the world come to visit. New Life is a casual and comfortable vacation where guests at any fitness level feel at ease.
Referred to as a "Hiker's Paradise" in the July 2014 issue of SELF Magazine, New Life has been listed as a Top Ten Wellness Retreat for 2015 by The Active Times, Travel to Wellness Magazine and Huffington Post. Additionally, New Life Hiking Spa was just selected as one of the top three U.S. stays of the 2015 summer season by Rand McNally.
New Life has also been listed as New England's top spa by Spas of America in 2010, 2011, 2012, 2013 and was listed as the #1 Spa in America for 2014.
More information can be found online at New Life Hiking Spa's Website: http://www.newlifehikingspa.com.