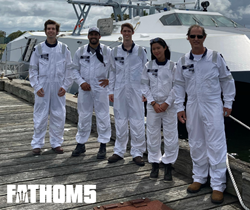 "We are building the industrial technology company for the 21st century and see our veterans as a cornerstone of our culture that embraces hard work, mission-oriented milestones, and a vision larger than ourselves," Zac Staples, CEO at Fathom5
AUSTIN, Texas (PRWEB) November 11, 2020
Fathom5 Corporation is pleased to announce it is a Gold Medallion award-winning company. The Gold Medallion award is presented by the Honoring Investments in Recruiting and Employing American Military Veterans (HIRE Vets) Federal program and is designed to highlight businesses that demonstrate both patriotism and recognition of the value veterans bring to the workplace.
"We are honored to receive this award. Our company makes every effort to employ the talent of veterans who have served our country. We are proud to provide an opportunity for this experienced pool of overachievers to continue their service in support of a more secure world empowered through the next generation of critical infrastructure automation," said Aanandh Chandrasekar, Director of Operations at Fathom5.
Fathom5 is creating a "DevOps to the Edge" model for secure industrial automation and building the company's core intellectual property with Go. The company also delivers cyberphysical testbeds, Industry 4.0 solutions, and digital services that help their partners thrive in the cyberphysical reality.
The company was founded by Zac Staples, a service-disabled veteran, who served in the U.S. Navy for over two decades culminating a long career of shipboard service as Director of the Center for Cyber Warfare at the Naval Postgraduate School in Monterey, California. While at the Naval Postgraduate School, Zac also created HACKtheMACHINE, nicknamed the "Blue Angels for Geeks," which seeks to inspire a new generation of technical talent to apply their skills to national security challenges. "We are building the industrial technology company for the 21st century and see our veterans as a cornerstone of our culture that embraces hard work, mission-oriented milestones, and a vision larger than ourselves. The adaptability, and willingness of our veterans to rally around a challenge gave our company the resilience to meet our growth objectives this year, despite the pandemic."
Fathom5 Corporation officially received the award on November 10th, the day before Veterans' Day. The national unemployment rate for veterans is 6.4 percent. However, the COVID-19 pandemic has led to an increase in the unemployment rate for younger veterans, which is 9.4 percent. The Military Times reports that "while veteran unemployment is trending down in recent months, we shouldn't necessarily take comfort." Unfortunately, veterans are often employed in jobs that are below their qualifications and veterans are 37 percent more likely to be underemployed than nonveterans. Thanks to veteran owned and veteran employment-driven companies, such as Fathom5, the talent and skill-level of veterans can offset the traditional unemployment and underemployment statistics.
The HIRE Vets Medallion, which came into fruition in May of 2017, is the only federal award recognizing exceptional achievement in veteran employment. Fathom5 Corporation will continue to make strides to employ the exceptional skills of veteran employees while serving the country. Members of the media are invited to speak with Zac Staples about his time in the military, his dream and development of Fathom5, and how this award win will help bring attention to the issue of employment for veterans going into 2021.