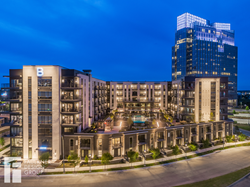 DALLAS (PRWEB) August 12, 2019
Faulkner Design Group, a leading national interior architecture and design firm specializing in multifamily housing and senior living environments, recently garnered four 2019 Grand Aurora Awards of their total five Silver Award finalists at the Aurora Award Ceremony on August 2 in Orlando, Florida. The Aurora Awards, hosted by the Florida Home Builders Association (FHBA) during the annual Southeast Building Conference (SEBC), included over 400 entries in 54 categories and were reviewed by a panel of six building industry leaders who are among the most creative and successful individuals within the building and design industry.
"The Aurora Gala was a sold-out event and showcased all Aurora winners," said Aurora Awards Chairman Patti Guthrie. "The event was definitely the place to see a spectacular overview of emerging design and planning trends in residential and commercial development."
Broadstone on Fifth, located in Fort Worth, Texas, received a Grand Aurora Award in two categories: Best Multifamily Housing Community (5 Stories or More for Rent) and Residential Community of the Year (Multifamily). Its expansive and thoughtful hotel-inspired amenity collection and design makes this property stand out as the most lavish lifestyle community in the area.
Lumen, located in Tysons, Virginia, received a Grand Aurora Award for Best On-the-Boards Mixed-Use or Multifamily Community. Scaling 865 feet above sea level, this towering 32-story property represents one of the highest points in the Washington Metropolitan area and one of the tallest buildings in the Commonwealth of Virginia. With over 35,000 square feet of recreational space, the building was designed for resort-style hospitality and is seeking LEED Silver certification.
Atria Mount Pleasant, located in Mt. Pleasant, South Carolina, received a Grand Aurora Award for Best Service Enriched Senior Community (IL/AL/Memory Care). The design team was challenged to minimize the separation of Independent Living, Assisted Living, and Memory Care, eliminating hierarchy in the community and promoting interaction between residents across all levels of care.
About Aurora Awards
Established in 1979, Aurora Awards are presented annually to outstanding builders, planners, architects, developers, designers, interior merchandisers and other housing-related professionals. Residential and Commercial construction professionals actively involved in projects located in Alabama, Arkansas, Florida, Georgia, Kentucky, Louisiana, Mississippi, North Carolina, South Carolina, Tennessee, Texas, Virginia and the Eastern Caribbean are eligible to participate.
About Faulkner Design Group
Faulkner Design Group, Inc., is a fully integrated national interior architecture and design firm specializing in multifamily housing and senior living environments, completing over 750,000 units in more than 2,000 communities across 37 states, from Hawaii to New York, and even Canada, working with the largest developers, contractors, real estate investment groups, and management firms in the country for over 27 years. These communities are surpassing the industry standard for creativity and quality, earning a reputation as the most highly sought after properties on the market. FDG offers comprehensive design services during the architectural development and construction planning phases of projects, leading the industry with cutting-edge virtual tools and technology, approaching each design solution as a fingerprint in which no two are alike.