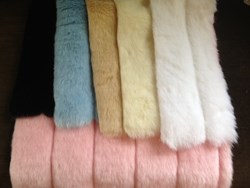 San Mateo, CA (PRWEB) December 09, 2013
In addition to the currently in-stock patterns, "Grooved Beaver: Brown", "Lynx: Brown, and "Clouded Leopard Cuddle", Norman Bernie Co. is announcing the arrival of "Grooved Beaver: White", after repeated requests from customers.
Other furs available to order include Luxe Mink in four colors: black, dark brown, gray, and beige; Zebra in three colors: white/black, brown/black, and gold/gold; Chinchilla, Porcupine, Desert Fox, Alaskan Fox, Frosted Mink, Cheetah, Giraffe, and Leopard also are available by special order. Perfect as upholstery fabrics for chairs and ottomans, as drapery fabrics for an incomparably rich look, and ideal for duvet covers, throws, and cozy outer wear, luxury furs are incredibly versatile. And, as they are 100% synthetic, they are washable.
Smart shoppers head to Norman S. Bernie Co. when looking for the finest selection of decorative fabrics and the most courteous and expert customer service, their fabulous inventory now including the terrific selection of gorgeous luxury furs at discounted prices.