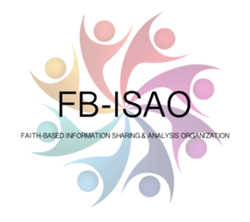 Brian has been a great friend and supporter of the FB-ISAO from its inception, as both a man of faith and while he served at the Department of Homeland Security - Andy Jabbour
LEESBURG, Va. (PRWEB) February 03, 2021
The Faith-Based Information Sharing & Analysis Organization (FB-ISAO), the Information Sharing and Analysis Organization for the community of faith and their partner and supply chain organizations, is excited to announce two new members to our Advisory Board. We are humbled to welcome Mr. Brian Harrell and Mr. Rizwan Jaka!
"Having Rizwan join our Advisory Board adds a great champion from the Muslim community and a tremendous advocate for interfaith collaboration," said Mayya Saab, Executive Director, FB-ISAO. "Rizwan is a patriot, a leader, and a great partner to the government and the community of faith."
"Brian has been a great friend and supporter of the FB-ISAO from its inception, as both a man of faith and while he served at the Department of Homeland Security," stated Andy Jabbour, FB-ISAO's founder and a Senior Advisor. "Brian brings a wealth of experience and personal commitment to our country, our freedom, and the rights for all people of faith to gather, learn, worship, and praise in peace and security."
The FB-ISAO Advisory Board provides guidance and direction to FB-ISAO leadership and staff, and support to FB-ISAO's outreach and operations. We're honored to welcome two outstanding leaders who have long championed increasing interfaith coordination, security, and resilience.
Mr. Brian Harrell Brian currently serves as the Vice President and Chief Security Officer (CSO) at AVANGRID, an energy company with assets and operations in 24 states. He is responsible for the companies physical and cybersecurity, security compliance, enterprise risk governance, and fire protection units. In 2018, Brian was appointed by the President of the United States to serve as the sixth Assistant Secretary for Infrastructure Protection, at the Department of Homeland Security. Brian also served as the first Assistant Director for Infrastructure Security at the U.S. Cybersecurity and Infrastructure Security Agency (CISA). While at DHS, Brian spent a considerable time focusing on the soft target security needs of houses of worship, schools, and other mass gathering areas.
Mr. Rizwan Jaka was born and raised in the United States of America. With his wife and six children, he lives in Loudoun County, Virginia. His Family is Indian/Pakistani/Mexican/Native American Ancestry. Rizwan has relatives that are Catholic, Protestant, and Jewish. He graduated with Bachelor of Science in Computer Science from the University of Texas at Austin in 1995 and has worked in the Information Technology industry for over 27 years. Rizwan volunteers in the Muslim and Interfaith Community. In addition to his new role with FB-ISAO, he is the current Chair of the Board and Chair of Interfaith/Government/Media Committee of The All Dulles Area Muslim Society (ADAMS).
You can read their complete biographies at our website.
About FB-ISAO. FB-ISAO provides members with information, analysis, and capabilities to help reduce risk while enhancing preparedness, security, and resilience. We are an all-faiths and all-hazards information sharing organization. Learn more at https://faithbased-isao.org.
Support FB-ISAO! We depend on membership dues and in-kind donations to deliver on the mission. Please consider helping so we can continue to enhance the preparedness, security, and resilience of all faith-based organizations.