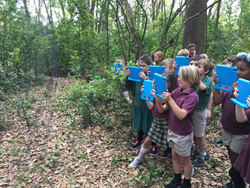 CASTLE ROCK, Colo. (PRWEB) September 25, 2019
Eight school and classroom leaders have been awarded 2019 Innovative Educator Prizes from the Foundation for Blended and Online Learning (FBOL) for digital learning pilots designed to address persistent learning obstacles and provide alternative academic pathways for students. The educators represent traditional public, public charter, and parochial schools and work in a variety of learning environments, including fully online, traditional classroom, and homeschool. Grant recipients receive financial support for their pilots and participate in a yearlong cohort to share promising practices and capitalize on peer insights.
"Enabling teachers to think creatively and design tech-supported solutions that address specific learning gaps or groups of learners is key to leveling the playing field for all students," said Amy Valentine, FBOL's executive director. "The variety and quality of proposals received through our educator grant program each year reinforces our commitment to fund projects that can scale from a single classroom or school to teachers facing similar situations across the country."
2019 Innovative Educator Prize recipients:
Christine Austin — Assistant Principal, Gwinnett Online Campus, Lawrenceville, Georgia.
Theresa Bruce — Middle School Teacher, KIPP Harmony, Baltimore, Maryland
Cory Olson — Ninth Grade Teacher, Argosy Collegiate Charter School, Fall River, Massachusetts
Marianne Pelletier — Principal, Saint Dominic Academy, Lewiston, Maine
Judy Perez — Founder, iLearn Collaborative, supporting Kit Carson School District, Denver, Colorado
Three educators from the 2018 cohort will receive funding to implement the second phase of their digital learning pilots:
Jennifer Kennedy — First Grade Teacher, J. Marlan Walker Elementary School, Henderson, Nevada
Jim McGinity — Science Teacher, Learning Gate Community School, Lutz, Florida
and Paige Mitchell — Digital Integration Specialist, Southwood Academy of the Arts, Anderson, South Carolina
Additional information on recipients' pilot project abstracts is available here: http://bit.ly/FBOLInnovativeEducators.
To learn more about FBOL's Innovative Educator Prize program, follow updates from the 2019 pilots, or indicate interest in applying in 2020, please visit https://www.blendedandonlinelearning.org/.
About the Foundation for Blended and Online Learning
Through scholarships, grants, original research, and strategic partnerships with a diverse cross-section of leaders, the Foundation for Blended and Online Learning is working to close the gap between the pace of technology in daily life and the pace of change in education. By documenting and sharing their stories, our efforts to keep the student, parent, and educator experience central to the conversations about the future of education help ensure that "school" effectively serves all learners and students can achieve their unique and unbounded potential. Learn more at http://www.blendedandonlinelearning.org/.